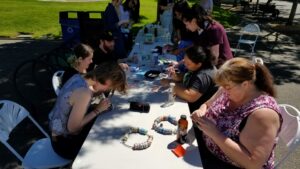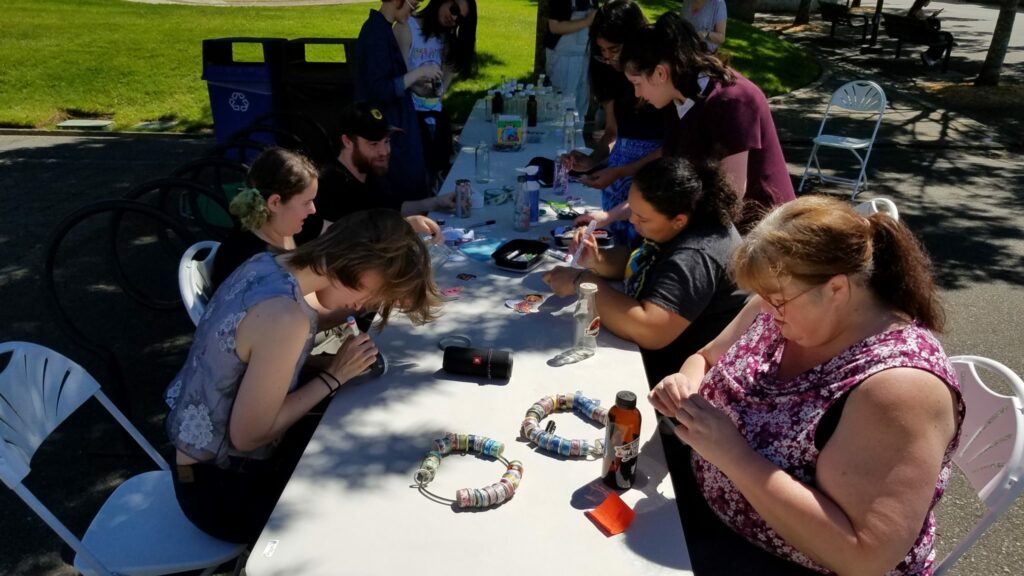 Bellevue College's Sustainability Academic Concentration is a program where students can complete sustainability-focused courses, and a service learning project, all while connecting with community members and gaining tangible skills to solve sustainability problems. 
This Sustainable DIY Workshop was done by student Emilio Palma as his service learning project and this is his article on the experience. Congratulations Emilio for completing it!
My interest in the BC's Sustainability Concentration came about sort of by accident. When I came to Bellevue College, I had no idea what I wanted to study. All I knew was that I was sick of taking all the regular core subjects in high school, and I wanted to branch out. So, for much of my first year, I explored whatever classes interested me. This led me into the Interdisciplinary Studies courses. The first one I took was INTER 117 – Bite Me; taught by Biology/Botany instructor, Michael Hanson; and English instructor, Michael Meyer. This class was a fascinating exploration of the US food and agricultural systems and their effects on the environment and human health. Bite Me was the first class that truly grabbed my attention and got me thinking about sustainability. Wanting to learn more, I decided to sign up for INTER 150 Fighting for the Planet. This class was very different from Bite Me. It gave me a greater awareness of the economic and political side of sustainability, but it also left me rather demoralized. I'd learned that there was so much more to sustainability than recycling your cardboard and saving water by taking short showers, that these sorts of individual actions only do so much to combat the crisis we're facing. It was during this class that I was approached about the Sustainability Concentration. As it turned out, I had nearly completed all the requirements by taking the two INTER classes. I knew that I couldn't just stick my head in the sand after all I had learned, so I decided to pursue the concentration.
As one of the requirements for the concentration, I got to do a Service Learning Project. The idea for the project came from a workshop Riley Beavers and I held for Earth Week. We wanted to do something interactive, creative, and informative, so we put together a workshop for students to make their own DIY creations out of recyclables. Using a variety of materials like milk jugs, jam jars, and kombucha bottles, we had students make their own hanging gardens, planters, and water bottles.
After the success of our Earth Week event, I was encouraged to put on another one. Planning my own event was a big step out of my comfort zone. I don't normally consider myself to be a people person and I'd never put together an event on my own before. Thankfully, the good people at Student Programs and the Office of Sustainability were incredibly patient and helpful, and before I knew it, the DIY workshop had a sequel.
Kombucha is one of my family's favorite beverages, but we've never been brave enough to attempt making it ourselves. We go through about a dozen per week and our recycle bin is usually overflowing with discarded bottles. I'd been meaning to buy a glass water bottle, but the price was a sticking point for me. So, I decided to save some of the Kombucha bottles, peel the labels off, and test them out as my go-to water bottles. The kombucha bottles proved to be surprisingly sturdy (I dropped them several times), and they were just the right size to take around with me.
I didn't think much of it at the time, but I came to realize that we can get a lot of use out of much of the disposable containers we buy our products in. It struck me as odd that we'll drop $20 on a special glass water bottle when we were putting several perfectly good glass bottles in the recycle every week. It got me thinking about how often we buy something, use it once, and throw it away. Our culture normalizes disposability in the form of one-and-done items like utensils, containers, shaving kits, toothbrushes, etc. There are so many items we use once and discard. I think we take for granted how much value we can really get out of some of these items.
The purpose behind doing a DIY workshop was more than just giving students something to do for a couple hours. My intention was to help change the way we look at recyclable and disposable items. I wanted people to see the value of these objects. It turns out that all it took was some paint markers, stickers, and a little creativity.
Last Updated June 24, 2019