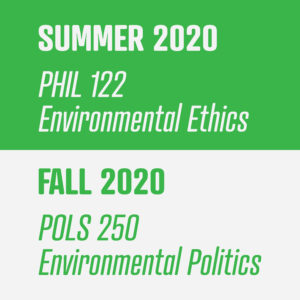 ---
Starting SUMMER 2020
PHIL 122 Environmental Ethics • 5 Cr.
ITEM #1915
Description
Provides an introduction to the ethical and epistemological issues pertaining to our interaction with the environment. Students study the various conceptions of the value of the environment and how these bear on environmental policy debates. Topics may include the intrinsic and instrumental value of wilderness, animal rights, pollution, over-population and more specific applied topics such as global warming or saving salmon in the Pacific Northwest. Fulfills social science or humanities course requirement, not both, at BC.
https://www2.bellevuecollege.edu/classes/All/PHIL/122
FALL 202O
POLS 250 Environmental Politics • 5 Cr.
ITEM #5460
Description
Does nature have political rights? What are the best policies to guarantee justice for all people amidst global warming and climate disruption? Why do marginalized groups face a disproportionate amount of environmental toxins? This class examines the relationship between political and environmental systems. Students will learn about the history of environmental politics and examine key debates concerning environmental policy and civic action.
https://www2.bellevuecollege.edu/classes/All/POLS/250
Last Updated May 15, 2020