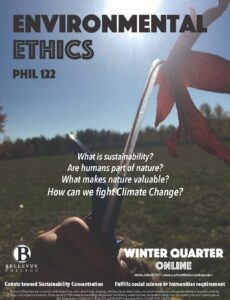 Come sign up for
ENVIRONMENTAL ETHICS: PHIL 122
OFFERED: SUMMER AND WINTER QUARTER
This online course fulfills either social science or humanities course requirements (not both) at Bellevue College. As well as counting towards the Sustainability Concentration.
In this philosophy course, we discuss with open minds the current "environmental crisis" we keep hearing about: How are different communities affected? How do our values shape our future? What does nature do for us, anyway? All perspective are welcome! This course is an opportunity to respectfully explore ideas and ask your questions.
The instructor also made this video for the class as well if you want to check it out
https://www.youtube.com/watch?v=GSWYywnN_Ok
Taught by instructor Monica Aufrecht.
Feel free to reach out here: monica.aufrecht@bellevuecollege.edu if you have any questions
Last Updated June 28, 2021