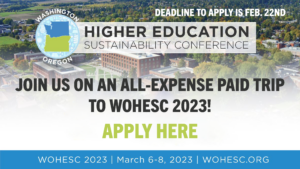 The Washington Oregon Higher Education Sustainability Conference (WOHESC) is an annual conference that brings together students, faculty, and staff from our region's higher education institutions to share ideas, collaborate, connect with each other and learn about sustainability.
During the conference participants will attend seminars, workshops, and listen to speaker panels on topics such as climate anxiety, climate justice and civic engagement, decarbonization and much more! We'll share best practices, discuss creative solutions to common challenges, and develop networks across our region by making new friends and meeting others who share similar goals of living and working sustainably.
The theme for the 2023 conference is "Mindscape & Landscape: The Intertwined Nature of Mental, Social, and Planetary Health"
For more information visit here: http://wohesc.org/
APPLY HERE
As a proud partner, we are also taking students on ALL-EXPENSE paid trip to attend WOHESC 2023 in at Oregon State University, Corvallis, Oregon for the duration of March 6th-8th.
To be considered fill out the application and email it back to us at sustainability@bellevuecollege.edu
DEADLINE FEB. 22
Last Updated February 10, 2023