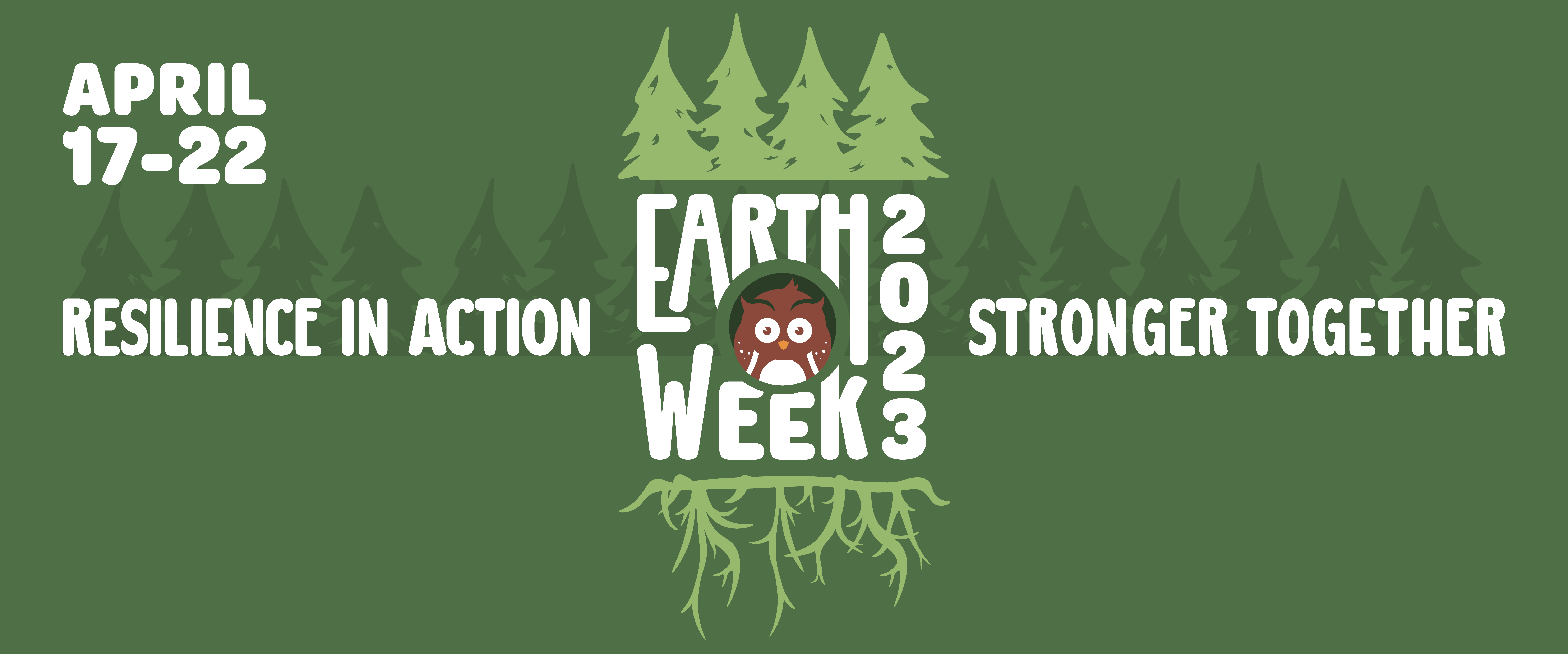 About Earth Week 2023
The Office of Sustainability is holding Bellevue College's 24rd annual Earth Week celebration – a week of exciting sustainability and climate justice related activities!
The theme this year is "Resilience in Action: Stronger Together", which focuses on the interconnectedness of people and the planet to create a thriving community and just future.
All events are open to the entire BC Community!
The week will be a hybrid format, with a combination of in-person events and virtual events.
For a campus map with parking as well as room locations click here and here.
---
Speaker Bios & Land Acknowledgement
Learn about our amazing speakers who will be doing in-person or live, online sessions for you!
Read our land acknowledgement and get resources to recognize the lands on which Bellevue College resides.
Recorded Events
Earth Week recordings listed on our Youtube Channel found here: Earth Week 2023 Recordings – YouTube
Events recorded:
Meet Bellevue's Wild Park Spaces: Discover the Wild Nearby!
Isla Urbana and the Mexican Water Crisis with Sol Garcia
The Secret Life of Groceries with Benjamin Lorr
Visualizing Washington's Geology with Dan Coe
Anytime Events
Click here to check out the activities that are available all day, every day! Participate at your own convenience.
---
Live Events Schedule
If you are viewing on a mobile device click here for a better viewing experience.
Make sure to check the schedule on April 11th for any updates!
All Week 2023
Event
What It's All About
Location/Time
E-Waste Collection Bin
Donate any personal electronics that are broken, old, or items you just don't want anymore!

Local company Interconnection will recycle your old electronics in an environmentally friendly manner, while ensuring any data on the device is securely removed or destroyed. Refurbished technology then gets donated to those in need.

Accepted Item List

NOT Accepted: CRT Monitors, kitchen appliances, garden tools, hand tools, or bathroom appliances.
Monday, April 17th at 10 am through Friday, April 21st at 1 pm
C Building Student Union
Prizes!
At all in-person events, receive a raffle ticket for a chance to win a custom Earth Week travel mug, a kombucha making kit, a boba tea making kit, a sourdough bread tool kit, glass water bottles, green cleaning kits, and goodie bags!

Raffles will be drawn at the end of each in-person session.

View some of the prizes here!
Win prizes at all the in-person sessions!

View some of the prizes here!
Monday April 17, 2023
Event
What It's All About
Location/Time
All Day Event!

Tree Giveaway with local non-profit 300 Trees
300 Trees is giving 100 trees to the Bellevue College community in celebration of Earth Week!

Register using your BC email to reserve your FREE tree here. Trees are available for BC students, staff, and faculty to take home and are meant to be planted outside to add to the Urban Tree Canopy.

All trees are in 1-gallon pots and there is a variety to choose from: Red elderberry, Chokecherry, Pacific crabapple, and Austrian pine. One tree per person please!

10:00 am to 2:00 pm
C Courtyard
Reserve your tree here!
All Day Event!

Seed Planting Station
Kickoff your garden and stop by to plant seeds in a small pot to take home. A large variety of plants will be available to choose from, so don't miss out!
10:00 am to 2:00 pm
C Courtyard
Julian Agyeman: Just Sustainabilities in Policy, Planning and Practice
In his talk, Julian will outline the concept of just sustainabilities as a response to the 'equity deficit' of much sustainability thinking and practice. He will explore his contention that who can belong in our cities will ultimately determine what our cities can become. He will illustrate his ideas with examples from urban planning and design, food justice and the 'Minneapolis Paradox'.
9:30 am – 10:20 am
Virtual
Register for the Zoom link here.
Registration is required!
Yoga with BC's Rachel Lowe
Connect with the earth and yourself by enjoying yoga movements for postural support and stretching, with emphasis on breathing awareness and overall relaxing. All are welcome and no experience necessary! Yoga mats will be provided, but feel free to bring your own. A blanket or beach towel can also be helpful.
10:30 am – 11:20 am
In-person
G110
Signup here!
Required, space is limited.
The Secret Life of Groceries with author Benjamin Lorr
Join author Benjamin Lorr as pulls back the curtain on a highly secretive industry. Starting from the top, we'll explore what does it takes to run the American supermarket, how our food gets on the shelves, who sets the prices, and who suffers the consequences of our increasing demands for efficiency.

The product of five years of research and hundreds of interviews across every level of the industry, Lorr's book The Secret Life of Groceries is essential reading for those who want to understand our food system– delivering powerful social commentary on the American quest for more and compassionate insight into the lives that provide it.
10: 30 am – 11:20 am
Virtual
Register for the Zoom link here.
Registration is required!
Isla Urbana and the Mexican Water Crisis
Learn about the water crisis currently happening in Mexico and an innovative project that uses rainwater collection to bring water access to the communities that need it most. During the session, you'll hear about the issue, some solutions, and how to get involved.
11:30 am – 12:20 pm
Virtual
Register for the Zoom link here.
Registration is required!

A Talk from Dr. Jessica Hernandez
Join a talk with the author of "Fresh Banana Leaves". More details to come!

About Dr. Jessica Hernandez
Jessica Hernandez is a transnational Indigenous scholar, scientist, and community advocate based in the Pacific Northwest. She has an interdisciplinary academic background ranging from marine sciences to forestry. Her work is grounded in her Indigenous cultures and ways of knowing. She advocates for climate, energy, and environmental justice through her scientific and community work and strongly believes that Indigenous sciences can heal our Indigenous lands. She currently holds appointments at Sustainable Seattle (Board Member), City of Seattle's Urban Forestry Commission, and the International Mayan League (Climate Justice Policy Strategist). She is also the author of Fresh Banana Leaves: Healing Indigenous Landscapes through Indigenous Science.
12:30 pm – 1:20 pm
Hybrid
In-person: C130
Virtual: Zoom Link
Repair What you Wear Workshop
Join Rachel Weigelt with Frayed Threads Mending to learn how mending your clothes and textiles can be climate action. We will review some basic mending techniques and tools, as well as the impact of fashion and textiles on people and the planet. Bring a few of your favorite, well-loved garments in need of simple repairs (a small tear, missing button, open seam) and we'll review options for mending them. We will be covering how to prepare a needle and thread for hand sewing, a few basic hand sewing stitches and how to attach a button. Basic sewing supplies (needles, thread, pins, patch fabrics, buttons, marking tools) will be provided.

The first 18 participants will receive a free mending kit!

Let us know you are coming! (Not required, but appreciated in order to ensure sufficient space and materials for everyone.)
1:30 pm – 2:20 pm
In-person
D106
Signup here!
First 18 participants will receive a free mending kit!
Bags to Bedrolls
Join the RISE Learning Institute on a project that converts plastic bags into bedrolls for people experiencing homelessness. These bedrolls create a lightweight water-barrier to help keep sleeping bags and blankets drier. Once completed, the mats are distributed to unhoused locals through the project's community partners, while also removing plastic bags from the environment. Must be able to use scissors, but no other skills or experience required.
2:30 pm – 4:20 pm
In-person
D106
Student Presentation on the Sustainable Development Goals
Join BC Student Anagha Rao as she discusses the United Nations Sustainable Development Goals, why they are important, and how they promote a resilient and just world for all.
3:45 pm – 4:20 pm
In-person
Cafeteria
Tuesday April 18, 2023
Event
What It's All About
Location/Time
All Day Event!

Earth Market and Tabling Event
-Organizations from Bellevue, King County, and beyond, including: Cedar Grove Composting, Citizens Climate Lobby, Complete Streets Bellevue, El Centro de la Raza, Environment Washington, Farmer Frog, Futurewise, Hopelink, Interconnection, Issaquah Fish Hatchery, King County Metro, Mary's Place, the Nature Conservancy, People for Climate Action, PSE, Puget Sound Mycological Society, Sierra Club, Spark Northwest, Washington Wild, and Zero Waste Washington. Learn about the work they do and how to get involved!

-Local businesses selling honey, soaps and body products, vinegars and oils, dog treats, and more!

-Plant Start Giveaway with BC's Grounds Crew. Start your garden with plant starts harvested from seeds right here on campus. Choose from ninebark, Casa Blanca white oriental lilies, and red raspberry seedlings. Plants are first, come first served!
10:00 am – 2:00 pm
In-person
Cafeteria
All Day Event!

Community Supported Agriculture Boxes for Sale
Come get your local, fresh and organic produce all while supporting farmers in the Puget Sound region. Each box is $20.00 and will contain a bounty of organic produce (10 different types of fruits and veggies, types TBD!).

Reserve your box now! Boxes are first come, first serve, so don't delay as there's a limited quantity available.

Once reserved, we will send you a confirmation email and online payment directions will follow.

A small amount of CSA boxes will be available for purchase on the day-of. Credit cards only please!

***All orders must be picked up on campus Tuesday, April 18 between the designated times and there will be no refunds.
10:00 am – 2:00 pm
In-person
Cafeteria
Boxes are available on a first come, first served basis!
Credit Card only please!
Composting with Cedar Grove
Learn how, what, and why we turn your food waste into nutrient-rich compost! Cedar Grove is a local, family-owned business with deep roots in the Seattle area and we play a critical role in the Puget Sound's recycling infrastructure – diverting over 350,000 tons of organic material from landfills every year. Providing green jobs in King and Snohomish Counties, we produce wholesome, nutrient-rich compost used by farms, businesses and residents, ensuring customers have access to locally produced, recycled products.
10:30 am – 11:20 am
In-person
C130
Greener Living: Ways you can protect our planet
Learn how to reduce wasted food, avoid single-use plastics, and get earth-friendly ideas on what to do with items you are no longer using. Learn at least three easy ways to make a positive impact for your community in this fun interactive class from City of Bellevue. Learn about a variety of local programs and resources for living an eco-friendly lifestyle.

GIVEAWAY ALERT: All participants will receive take-home tools to help change, or maintain, positive daily choices. We will raffle off green cleaning kits too!

Let us know you are coming! (Not required, but appreciated in order to ensure sufficient space and materials for everyone).
11:30 am – 12:20 pm
In-person
D106
Signup here!
Creating Sustainable Communities with Land Use Advocacy: Local Actions & Tools

With Complete Streets Bellevue and Futurewise
Join Futurewise and Complete Streets Bellevue to explore the ways that environmental issues- like climate change, sustainability, and conservation- intersect with land use, planning, and growth. We'll explore the framework and tools that exist in Washington State to manage growth and how these laws and processes are necessary to achieve better environmental outcomes by transforming transportation, housing, and other systems. This talk will close by highlighting real advocacy opportunities in Bellevue and the Eastside that students can use to push for positive change. We'll explore specific examples of how local actions can restore hope and feelings of agency to create positive impacts in our communities right now.
12:30 pm – 1:20 pm
In-person
C130
Meet Bellevue's Wild Park Spaces: Discover the wild nearby!
Join a Bellevue park ranger as we learn about some of the amazing locations in the Bellevue Parks & Open Space System. From old-growth forest to beaver-gnawed wetlands, there's more to your local park than you might expect.
1:30 pm – 2:20 pm
Virtual
Register for the Zoom link here.
Registration required!
Dan Coe: Visualizing Washington's Geology
Washington State has a remarkable array of landscapes shaped by a variety of geologic processes. Join cartographer Dan Coe as he shares how the Washington Geological Survey uses maps, illustrations, and other graphics to tell Washington's geologic story and communicate the State's natural hazards to the public.
2:30 pm – 3:20 pm
Virtual
Register for the Zoom link here.
Registration required!
Decarbonizing Seattle's Buildings with Sierra Club
In the past few years Washington has passed new regulations that effectively eliminate natural gas appliances in all new construction. Now Seattle is crafting a policy called the Building Emissions Performance Standards that would begin to phase out gas in existing buildings. This is a critical step because decarbonizing will be impossible without retrofitting the thousands of buildings that are currently using gas heat, but the policy is at risk from overcomplicated implementation rules and entrenched political opposition. This presentation will cover why this obscure-sounding building code could be one of the most important policy tools we have to reduce our city's carbon footprint, and where things stand now with the current draft.
3:30 pm – 4:20 pm
In-person
D106
Wednesday April 19 2023
Event
What It's All About
Location/Time
Stewardship Opportunity!
Robinswood Forest Restoration
Join the City of Bellevue Parks for a morning of forest restoration stewardship at Robinswood Park. Volunteer projects will be held rain or shine, but may be cancelled if extreme weather conditions are in the forecast.

All volunteers must sign (or have signed by their parent or legal guardian) a liability waiver.

The City of Bellevue will supply all tools, materials, and equipment unless otherwise noted. On the day of the project, please bring:
• Sturdy closed-toed shoes or boots – clean them thoroughly to avoid spreading weed seeds into our natural areas
• Work gloves
• Layers of comfortable clothing
• Long work pants – yoga pants, athletic tights, and leggings may not provide adequate protection
• Rain gear, depending on the weather forecast
• Bottle of water and snacks

Register here (required)! There's limited space available.
10:00 am to 12:00 pm
Meet at Robinswood Park
Signup here (required)!

Bellevue College Arboretum Event
Bellevue College has received Arboretum Certification! Join the Grounds team and the Office of Sustainability to tour the BC Arboretum's four zones: the Woodland Boulevard, Shady Glen, Native Berry Patch, and Urban Forest Loop. Start things off at the Fountain with the Office of Sustainability, then take a self-guided tour through one or all of the zones, where the Grounds team will be on hand to answer questions. Learn more about the 59 species on campus identified to date- and explore more about each on the Office of Sustainability website.
10:00 am to 11:00 am
Meet at the Fountain
Stewardship Opportunity!
Campus Beautification Project
(Staff and Faculty Only)
Details to come. It will be part of the BC Community Day programming.

Participants will receive their own pair of gardening gloves courtesy of The Foundation.
1:45 pm – 3:30 pm
Meet at the Fountain
Thursday April 20, 2023
Event
What It's All About
Location/Time
All Day Event!

Electric Vehicle Show
After 3 years, a favorite event is back! Stop by the courtyards to experience the electric vehicle show courtesy of Seattle Electric Vehicle Association! You'll get a close up look at Teslas, Volts, custom builds, and more, as well as learn about how electric cars work and what makes them better than all-gas cars.
10:00 am – 2:30 pm
In-person
C, Fountain, and E Courtyards
Public Transit Orientation with Hopelink
Join Hopelink for a short field trip using public transit. We will take a short walk to the Eastgate Park & Ride, use an ORCA card (provided) and ride the bus back to campus. This is a great opportunity to learn how to ride the bus and receive a free, pre-loaded ORCA card ($22 value)! If you sign up and need accommodations or language interpretation services, please contact Heather Clark at hclark@hopelink.org or at 425-625-6784.

Sign up here (required)! Space is limited.
9:30 am – 10:20 am
In-person
Meet at the Fountain
Sign up here (required)!
Planning for the Era of Free Electricity
Advances in renewable energy over the past decade have led us to an amazing outcome: solar photovoltaic electricity may become virtually free during the middle of the day. We are already seeing this happen in states like California, where investments in renewable energy have yielded more results than anticipated. Join BC's Ted Spence as he discusses what data analysis tells us about the electricity market, and how should our elected officials react to these changes?
9:30 am – 10:20 am
In-person
D106
Building Resilience through Clean Energy
A co-presentation with two speakers from Spark Northwest. We'll discuss why clean energy is a matter of community resiliency and share about the Community Resilience Hubs in Oregon, specifically, the state policy initiatives being proposed to ensure communities safe and healthy before, during, and after extreme weather events and other disasters.
10:30 – 11:20 am
In-person
D106
Coming Together for the Climate: An Indigenous Perspective
Join Pamela Bond SeaMonster for a screening of her short film 'Yehow', and to learn about her work in climate and environmental advocacy, and the impacts being felt by indigenous populations. Learn from her many years of experience as a cultural educator and advocate for indigenous placekeeping, protecting our lands and waters.
11:30 am – 12:20 pm
In-person
Cafeteria
Myths and Misperceptions
(Faculty Only)
Are you passionate about climate justice, but would like a better understanding of the science behind it? Join the first of this workshop series with retired BC faculty Kent Short to discuss the common myths and misconceptions surrounding climate change.

This workshop series is designed to provide faculty with the resources, vocabulary, and understanding of the science behind climate change. The purpose is to continue collaboration across different divisions and programs to connect social issues to the science of climate change.  The workshop sessions will include information on the science behind each topic, followed by discussions on the social impact of each issue and ways to incorporate this information into classes. For more details click here!
12:00 pm – 12:45 pm
In-person
Faculty Commons
(Faculty Only)
Introduction to Hiking and Backpacking
Outdoor recreation is on the rise and great for your physical and mental health; learn to make use of these valuable natural resources and how to plan safe and sustainable adventures. Join Peter Prescott, (lead instructor for the Outdoor Recreation Leadership certificate and Wellness Center Director) for a lecture on outdoor trip planning steps and the required resources for a lifetime of successful adventures.

Register here (required)!
12:30 pm – 1:20 pm
In-person
C130
Register here (Required)!
Environmental Racism is a Problem. Why Should You Care?
Studies show that communities of color bear many of the burdens of climate change and the destruction of Earth. In sustainability movements, whiteness and racism are usually not at the forefront of discussions, practices, or outreach. Antiracism is the key to understanding environmental injustice, but can you connect personally to climate change if the solutions don't fit the needs of your communities? Similarly, how can you connect if you empathize through learned experiences but not lived ones? Join us in a discussion about how finding YOUR "access point" to build connection.
12:30 pm – 1:20 pm
In-person
D106
Film Screening of "The Story of Plastic" followed by a Panel
Join us for a screening of the Emmy winning documentary, The Story of Plastics, which reveals the ugly truth behind plastic pollution and the global resistance fighting back. Following the film, we'll be joined by a panel including Pam Clough with Environment Washington, Veronica Padula, Ph.D. with the Seattle Aquarium, Young Grguras with Post Landfill Action Network, and Liz Schotman of Surfrider to learn more about local efforts to fight plastic pollution and how to get involved.
1:30 pm – 3:20 pm
In-person
Cafeteria (C Building)
Climate Action Springboard
Join the Climate Action Springboard session to learn about how you can engage in local work to address the climate crisis! We'll be joined by leaders from People for Climate Action, Citizens Climate Lobby, and 350 Eastside. Following a panel presentation, we'll have time for questions and discussion.
3:30 pm – 4:20 pm
In-person
D106
Friday April 21, 2023
Event
What It's All About
Location/Time
Mountains to Sound Greenway Trust Habitat Restoration Project
Join us at Lake Sammamish State Park (Tibbetts Creek) to volunteer in habitat restoration. We will be removing blackberry from areas in the park that affect the health and environments of salmon that run through the rivers in Issaquah. The Greenway has worked across the watershed restoring sections of Tibbets Creek through undesirable plant removal and native tree plantings – all with the help of volunteers. Sign up here!

Just a reminder: all participants must sign up through the registration button on this webpage. All volunteers are also required to wear long pants and closed toed shoes to the event.
9:00 am – 11:00 am
In-person
Meeting Place TBD
Please register here (required)
Film Screening and Q & A of "Coextinction"
Join us for a screening of the film "Coextinction" followed by a Q&A session with one of the film's team members.

What it's about
After a mother orca carries her dead calf for 17 days, two filmmakers spring into action, joining Indigenous leaders and scientists making a final attempt to save the last 73 Southern Resident orcas from extinction. Coextinction takes audiences deep into the oceans and forests of the Pacific Northwest, connecting ecosystem collapse, centuries of injustice against Indigenous peoples, and the frontlines of the world's most pressing environmental threats. The film aims to galvanize tangible action for a climate-just future, while amplifying Indigenous voices and movements to support their rights and stewardship of traditional territories.

12:30 pm – 2:20 pm
In-person
Cafeteria
Guided Wilderness Bike Ride on the Palouse to Cascades Trail
Join the BC Wellness Center for a community building bike ride in a beautiful wilderness setting! The Palouse to Cascade is a rail trail that heads from Rattlesnake lake into the Cascades with a grade that's almost flat. We will provide the bike, helmet and great views- you bring your spirit of adventure, snacks and your camera! GET OUT THERE!

**No experience or equipment required**

Registration is required!
Register for the event with a bike rental included here (10 spots)
Register for the event and provide your own bike here (5 spots)
2:00 pm to 5:00 pm
Meeting Place TBD
Registration required!
Register for the event with a bike rental included here (10 spots)
Register for the event and provide your own bike here (5 spots)
Saturday April 22, 2023
Event
What It's All About
Location/Time
Snoqualmie Tribe Kokanee Habitat Restoration
The Snoqualmie Tribe and the Mount Si High Green Team invite you to their annual Earth Day event!

Join them for ecological restoration projects, talks from local environmental leaders, and an all around community gathering to celebrate bringing health to our collective home, EARTH! Restoration activities include planting, pulling weeds, mulching, and wildlife sighting with friends. They will also be hosting local environmental organizations to talk about their work in the Snoqualmie Valley, lead wildlife tours, sell/share flowers & produce, and generally connect with the community. Join to learn how you can contribute to a healthier, happier Snoqualmie Valley for all who call this place home.

Parking will be available at Mount Si High School in the uncovered parking lots at 8651 Meadowbrook Way SE, Snoqualmie, WA 98065. From there, cross the street towards the tennis courts and follow the "Community Volunteer Event" signs to the Kimball Slough restoration project area. We will be meeting and starting the event in the field just outside the restoration area.

This event will happen rain or shine, so please dress for the weather. Rain gear, boots, and clothes you don't mind getting muddy or sweaty are recommended. Tools, snacks, and gloves will be provided! Bring your own coffee mug or water bottle to reduce waste and keep your coffee or tea warm.
Register here to help them prepare for the event, and fill out the new waiver for the 2023 calendar year!
9:00 am – 2:00 pm
In-person
Kimball Slough (across from Mt. Si High School
350 Seattle Rally and March
Rally and march on downtown Seattle's biggest polluters with 350 Seattle and the Sierra Club.
12:00 pm
Seattle City Hall
Global Social Business Partners (GSBP) Earth Day Celebration Pot luck and Seed Exchange
Join Global Social Business Partners (GSBP) together with their partner hosts
in a Seed Exchange and celebration with cultural foods in honor of Earth Day.

All are welcome and the event is potluck style. In the spirit of Neighbors Feeding Neighbors, bring seeds to share to grow more food and give back.They welcome cultural recipes for their Youth Rising Cookbook.

Their food partner organizations are providing food (non-perishables) at the event for participants to distribute to those in need in your communities.
1:00 pm – 4 pm
Location TBD
Connect With Us!
Email: sustainability@bellevuecollege.edu
Last Updated June 21, 2023