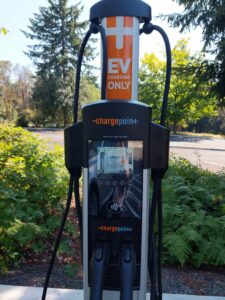 The largest contributor to Bellevue College's greenhouse gas emissions is travel to and from campus by our students, staff, and faculty, especially in single occupancy vehicles. You may wish to consider using an electric vehicle, which creates lower emissions than most fuel efficient vehicles. Also consider our Washington state energy grid and where the electricity comes from for your fuel.
To help you take advantage of electric vehicle technology, we have many charging options for you on campus!
Did you know? We were the first higher education institute to install a Fast Charger in the Western USA.
To find EV stations anywhere off campus PlugShare is an excellent resource to help locate these stations.
General FAQ
Where are the stations located?
There are Blink EV Stations on the first floor of the parking garage, and behind the C building next to the Greenhouse at Lot C7. There are Level 2 Chargers in both locations, and 1 DC Fast Charger located in Lot C7.
(PICTURE COMING SOON)
There are ChargePoint EV Stations by the Student Success Center (U Building) in Lot 4. There are Level 2 chargers located here.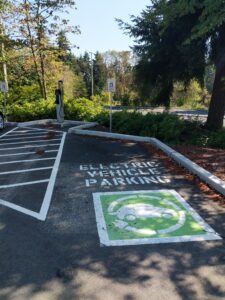 For specific locations refer to this map or Plugshare.
---
Who can use these stations?
Anyone with an Electric Vehicle, employee, student, or guest can use these spots.
---
Do I still need a BC parking pass when I use these spots?
While charging, you do not need a parking pass. You must move your car immediately after charging ends or risk parking penalties. After moving your vehicle to a parking spot on campus, you will require a BC parking pass.
---
Is my vehicle compatible?
Both the Blink and Charge Point stations are equipped with J-1772 plugs which are compatible with most EV vehicles.
---
Do I need to be a member to use these stations?
While both have advantages and perks of being members; no you do not need to be a member. Call their support lines if you would like to understand more about their memberships.
ChargePoint: 1-888-758-4389
Blink: 1-888-998-2546
What should be done if a non-EV is parked in the EV parking spot?
Contact public safety at 425-466-9365, and in the mean time find another station at one of our other locations.
---
Do tenants and visitors need to valet to use the EV charging station?
No, these spots are first come first serve.
---
How much does charging cost?
Charge rates for our stations are indicated on the machines. The cost of a full charge may vary based on a vehicle's battery size and current charge level.
Blink Members: $0.39 /kWh
Blink Guests: $0.49/ kWh
ChargePoint: $2 per hour
---
Still have questions?
Contact us at transportation@bellevuecollege.edu
For Specific Station Questions: