ComGen from a Student Perspective
Read this article where a Bellevue College student shares her experience in both the BIO 211 and BIO 275 courses and why she thinks this way of teaching science is important for the student experience.
Benefits of ComGen Experience
Resume building lab techniques:
Learn hands on technical lab experience implemented in many research and biotech settings in the real world.
Students collaborate and debate like real scientists by engaging in open ended discussion
Gets students exposed to graduate type of research and teaching environment
Similar to a biotech internship where the skills can add to a building student resume
Builds a vision for students so that they will have the confidence and experience so they won't be intimidated in real research
Students are exposed to the experience of truly doing a research project for themselves
With the lab experiences, students from ComGen continue their science education at prestigious institutions such as University of Washington, John Hopkins University, and others.
Being a scientist and student at the same time:
Get college credits for doing research.
Engage in scientific article readings and journal clubs.
Research findings get submitted to the USDA scientists for further research.
Sequence their P. fluorescens genome that no one has ever researched.
Students are exposed to the experience of truly doing a research project for themselves.
Students intern working on project at USDA/ARS.
Students engage in scientific networking with scientists at ComGen hosted visitors during events such as The American Association of Pharmaceutical Science.
Students present their research at mini-symposia and national and international professional society meetings.
Students create their own protocol instead of copying off a lab manual. This technique is used today by scientists in lab research.
Pride in contributing to solving a real life problem to society.
---
Prerequisites: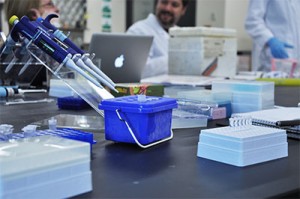 Not a lot of biology background required. Just take Bio160, or Bio211 or with instructor permission. AP Biology with a score of 4 or 5.
For research on Take-All: the classes to take would be Bio 211, 275, 276, 299.
BC Classes
Bio 211-Biology Majors Cellular or Animal or Plant: First in a three-course sequence for science majors and pre-professional students. Topics include cell structure, metabolism and energetics, genetic control of life, biotechnology, and an introduction to evolution
Bio 275+276 Laboratory Methods in Genomics: Introduces the use of laboratory tools and techniques to sequence DNA. Topics covered include DNA structures and gene expression. Emphasis on experimental methods and design. Students learn to think critically about research methodology and scientific investigation.
299 Individual Studies in Biology
---
Links to Learning Biology:
Last Updated September 20, 2017