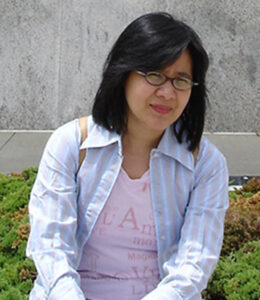 Biography:
Hello, my name is Liliana Lawrence, I have been an Economics Instructor at Bellevue College since 2009. I call Bellevue-Redmond-Kirkland my home and stomping ground, as I reside at the corner, tangent point of these three towns. Originally I was born in the island of Java, one island in a string of archipelago of islands in the middle of the equator in the Pacific, and my parents are of Singapore-descent father and Indonesian mother.
After I finished Master's degree in Singapore, and a couple years of working experience doing economic and business research with McKinsey & Company, I moved to New York in 1999 to work for the United Nations Headquarters (in the field of Economic Development); two years later, I decided to do a further study on PhD in Economics in New York City.
I started teaching in 2003 at Brooklyn College in New York while I was studying there. When I finished my study, Empire State College in Staten Island, New York, offered me a position, but the Call of the West felt stronger, and after almost ten years in New York City, I felt the need for open space and greenery, so here I am at the East side of Seattle.
While I am not teaching or preparing classes, before or after, I do enjoy a bit of gardening on my small patch, I also enjoy communing with nature on my daily walks in the neighborhood parks, experimenting on cooking (my most recent acquisition is a pressure cooker that I tried on making curry, yum!), and I also love reading, movies, or PBS documentaries, preferably historical-based drama or natural world programs. When time and money allowed, I'd love traveling, getting to know different cultures, and people, and places. Three most memorable trips I have done are: the road trip from Chicago to Seattle (after teaching one year at Lake Forest College in Illinois, I sold all my worldly belongings and packed only what's most important that could fit into my little sedan; it's memorable because there was just me and the car, the big sky and the road ahead); the second is when I took one whole month backpacking trip to Europe in the 90s, I gained a lot of experiences as I went through places (it's memorable as I spent all my saved money on that trip, but in terms of "marginal utility per dollar" spent, it was well-spent); and the third is a trip to Bangkok where I did parasailing at the Pattaya beach (it's memorable, because I am afraid of heights!).
What gives me pleasure most about teaching is that I get to be involved in building dreams. It might not yield the tangible output right away, but once in a while, a former student would send me news after asking me for recommendation letter. One that I recall, Viktoriya who went to Columbia U for a Master's degree now works for a big bank in New York. Another one, Elias, switched from Biology major into Business after taking my class, and got into Berkeley. There is nothing more satisfying for a teacher to hear success stories from former students.
My teaching style in class is a combination of lecture with in-class exercises, weekly reviews through quizzes or homework, and finally exams. For online classes, I use weekly essays/discussions (in place of the class sessions), as well as the weekly homework or quiz, and exam.   You may send me emails via liliana.lawrence@bellevuecollege.edu or via Canvas, or find me at the office designated at BC, currently at room A200A during my office hours, or connect with me via Linkedin for professional connection. See you!