Current Exhibition
Current Exhibition:
Scott Trimble
Exhibition Dates: Apr 22 – Jun 22, 2023
Opening reception: Thursday Jun 15, 4-7PM
Gallery Hours:  Tuesdays: 9:30-4:30   Wednesdays: 9:30-2:00  Thursdays: 9:30-4:30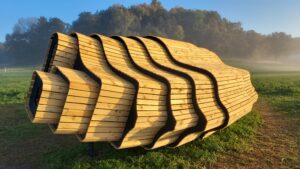 W. Scott Trimble is a sculptor whose site responsive artworks and installations consider the intersections between art,     architecture, and the participation of humanity within. He has largely been influenced by the central coast of California where he was born and the PNW where he has been working since receiving an MFA in sculpture at the University of Washington in 2003. Starting out in reductive techniques, leading to bronze casting, and fabricated steel sculpture, he has also delved into coin-operated kinetic works and most recently large site specific interactive wooden sculptures. He is most interested in alternative venues that engage the greater public on their own terms and where it is least expected. He is mostly interested in creating artworks that are accessible, interactive, lyrical, and facilitate exploration.
Recognized through awards and grants by the 4Culture, Seattle Arts & Culture, Artist Trust, and McMillan Foundation, he has many public and private art commissions found throughout the Pacific Northwest. He has extended his art practice through his participation in many reputable artist residencies such as Bemis Center for Contemporary Art, Anderson Ranch, Lucas Artist Residency at Montalvo, Amazon, Sculpture Space, Jentel, and others.
Trimble prefers temporary venues that are more accessible to the greater public such as Bumbershoot Art & Music Festival, Wormfarm Institute Farm/Art Dtour, Hello Tunnel/Good-bye Viaduct, and so forth. He has also exhibited mostly in northwest galleries and sculpture parks that have included Greg Kucera Gallery, Swarm Gallery, Schneider Museum, Bellevue Arts Museum, Crawl Space Gallery, Method Gallery, 4 Culture Gallery, Olympic Sculpture Park, to name a few.