Current Exhibition
Current Exhibition:
Bellevue College Faculty Exhibition 
Exhibition Dates: February 15 – April 7
Opening reception: February 15, 4:30-7PM
Gallery Hours:  No regular hours until Spring Quarter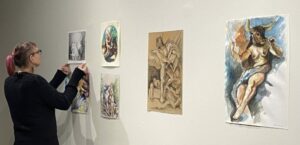 Past Artists
Mary Coss
Residency: October 4 – 15  &  November 1 – 17
Sound the Siren Exhibition: November 17 – December 30
Opening reception: November 17 (4-8PM)
Individuals, groups, and faculty who want to bring their classes are encouraged to visit the gallery during the residency to meet Mary and discuss her work (October 4 – 15 & November 1 – 17). Mary will be in the gallery Tuesdays, Wednesdays, and Thursdays 10AM-4PM. Please contact her (cossmary@gmail.com) at least 1 day before the day that you would like to visit.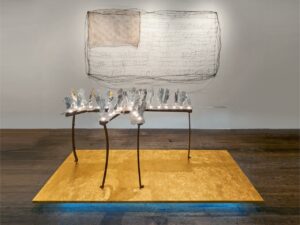 I explore current topics and memory with a critical eye. I challenge our expectations and social norms in order to analyze their effects on our present state and to consider our future impact. Sound the Siren is artwork examining ideas of social justice. There are tendrils to civil rights, free speech, feminist ideology and a host of other topics. The work has a societal basis and generates conversation about history, empowerment, empathy and integrity.
I will host students both during my residency working stage and during the exhibition period to discuss the ideas behind the work and the methods of fabrication. I will also facilitate voter registration by providing interested students with a QR code, so that they can register to vote online. I welcome collaboration with faculty and am happy to tailor the conversations to related subject matter in the curriculum.
BIO
Mary Coss is an interdisciplinary artist known for her haunting installations that explore the human condition. Born in Detroit and based in Seattle, Coss received her MFA from Syracuse University, Dept. of Experimental Studios. Materials vary and range from cast bronze, fabric and drawing to neon light and sound. Her use of common imagery is often abstracted or put into a new context to create new perspectives to consider. People's stories, current news cycles and existential questions inspire the artwork.
Recognized through awards and grants by the NEA, Ford and Puffin Foundations, 4Culture, Seattle Arts & Culture and Artist Trust, her numerous public art commissions are found throughout the Northwest.Coss exhibits nationally and in northwest galleries, museums and sculpture parks that include Museum of Northwest Art, Bainbridge and San Juan Museum of Art, The Wing and Webster Sculpture Park. Public Debt to the Suffragette received "Art to Change the World: Inspiring Social Justice" Special Recognition Award from the ACLU at ArtPrize. Critically acclaimed Layers of the Hijab, a three-year social engagement project, received NEA funding. Coss' Public Art includes commissions and socially engaged practices, project Lead Artist and authorship of Art Plans.
Coss has built international partnerships that include exhibitions, residencies and cultural exchanges in Stockholm, Canada, Ireland, Turkey and Guatemala. Residencies include Willapa Bay, Playa, James Washington Foundation, Cornish Incubator, and Cill Rialaig. She is cofounder of METHOD Gallery, CASA: a rape crisis center that flourishes after 30 years, and Borealis Light Festival.
Sarah Fetterman, March 15 – June 15, 2022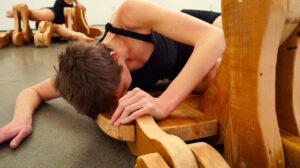 Sarah Fetterman is an artist working in performative sculpture. She utilizes the fluid, organic movement of dancers, either juxtaposing it with the awkward creaking movement of wood and metal sculptures, or having the dancer's flour-covered body track its movement on large sheets of black tar paper.
Sarah's interest in durational work gives her art a dream-like quality punctuated with precarious and yet graceful moments. Choreographing her installations and dancers as one, Sarah emphasizes the essence of the work as a total organism.
Since coming to Seattle, she has embraced the interdisciplinary and tech-savvy art culture – collaborating with Code Empathy, a software coding company. Sarah's work was exhibited at Soil Gallery, Franconia Sculpture Park, Shunpike's Storefronts, Collective Vision's Gallery, Hybrid Space, and the Center on Contemporary Art (CoCA). She assists world-renowned sculptor John Grade with installation in venues including the Smithsonian.
http://www.sarahfettermanstudios.com/
Francesca Lohmann, Slumber Party, January 15 – March 15, 2022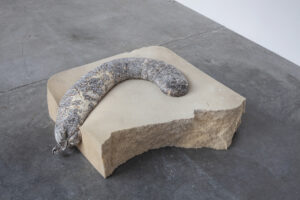 I am working to build a language that operates through gesture, imprint, support, mutual formation, through things and processes as they manifest in the world. Everything in this language exists in multiple, as a series, an open edition. There is no singular definitive object.
I'm curious about boundaries and where boundaries become confused.
About the distinction between dead and alive.
I'm looking for certain instances of weight; emotional density.
Like a fairy tale, or a joke, a good meal, a rock.
BIO
Francesca Lohmann (b. 1986 in San Francisco) was raised in the foothills of Northern California, and now lives and works in the Pacific Northwest. Trained in Printmaking, her practice continues to be concerned with material in time, repetitions, affinities, and points of contact. Recent solo exhibitions include "Variants" at Ditch Projects in Eugene, OR; "Taffy X" at the Coffin Farm in Redmond, WA; "Sets" at Veronica in Seattle, WA; "Butter Flavor with Yellow" at Seattle Freezer, and Subspontaneous, a collaboration with Rob Rhee at the Frye Art Museum in Seattle.
https://www.francescalohmann.com/
Sung I Chun, November 15, 2021 – January 15, 2022