Current Exhibition
Current Resident Artist
Sarah Fetterman, March 15 – June 15, 2022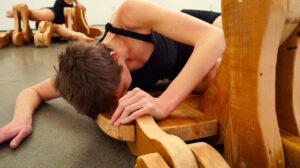 Sarah Fetterman is an artist working in performative sculpture. She utilizes the fluid, organic movement of dancers, either juxtaposing it with the awkward creaking movement of wood and metal sculptures, or having the dancer's flour-covered body track its movement on large sheets of black tar paper.
Sarah's interest in durational work gives her art a dream-like quality punctuated with precarious and yet graceful moments. Choreographing her installations and dancers as one, Sarah emphasizes the essence of the work as a total organism.
Since coming to Seattle, she has embraced the interdisciplinary and tech-savvy art culture – collaborating with Code Empathy, a software coding company. Sarah's work was exhibited at Soil Gallery, Franconia Sculpture Park, Shunpike's Storefronts, Collective Vision's Gallery, Hybrid Space, and the Center on Contemporary Art (CoCA). She assists world-renowned sculptor John Grade with installation in venues including the Smithsonian.
http://www.sarahfettermanstudios.com/
Past Resident Artists
Francesca Lohmann, January 15 – March 15, 2022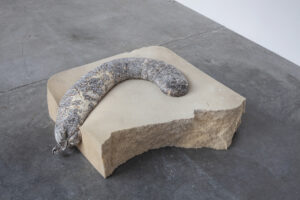 I am working to build a language that operates through gesture, imprint, support, mutual formation, through things and processes as they manifest in the world. Everything in this language exists in multiple, as a series, an open edition. There is no singular definitive object.
I'm curious about boundaries and where boundaries become confused.
About the distinction between dead and alive.
I'm looking for certain instances of weight; emotional density.
Like a fairy tale, or a joke, a good meal, a rock.
-Francesca Lohmann
Francesca Lohmann (b. 1986 in San Francisco) was raised in the foothills of Northern California, and now lives and works in the Pacific Northwest. Trained in Printmaking, her practice continues to be concerned with material in time, repetitions, affinities, and points of contact. Recent solo exhibitions include "Variants" at Ditch Projects in Eugene, OR; "Taffy X" at the Coffin Farm in Redmond, WA; "Sets" at Veronica in Seattle, WA; "Butter Flavor with Yellow" at Seattle Freezer, and Subspontaneous, a collaboration with Rob Rhee at the Frye Art Museum in Seattle.
https://www.francescalohmann.com/
Sung I Chun, November 15, 2021 – January 15, 2022