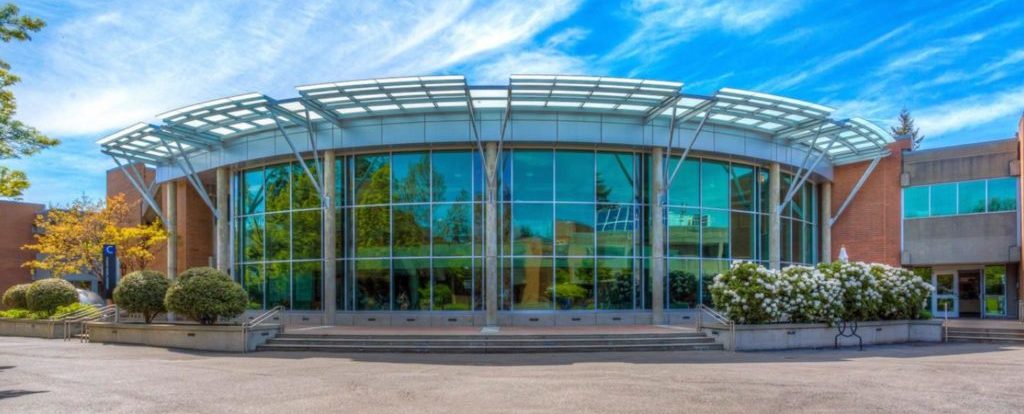 Welcome to the Bellevue College COVID-19 Employee Resource Portal
COVID-19 Employee Resources
Dear Campus Community,
With several new and anticipated announcements coming out from the Governor's Office and King County Public Health, the flu team wanted to provide updates on how Bellevue College will proceed through the next few weeks and months. Our goal is to enact guidelines that maximize the safety of our employees, students, and the greater community, while working to transition back to campus.
Masks
The Governor's office is eliminating the requirement to wear masks while indoors effective March 11, 2022. King County's indoor mask mandate is still in effect with no projected end date. Regardless of any future guidance from King County, Bellevue College will continue to require masks indoors at least until the end of Winter Quarter. The Flu Team and President's Cabinet will continue to monitor local, state, and national health guidance before determining the path forward for the Spring Quarter. Guidance will be forthcoming in the next few weeks.
Vaccination Requirements
As of now, the Governor has not ended the vaccine requirements for students and employees. Bellevue College continues to be a vaccinated campus. Unless and until that changes, all employees and students will be required to follow the College's guidance on vaccination attestations, proof of vaccinations, and exemptions.
King County had a separate mandate to conduct vaccination checks for events such as drama performances and indoor sporting events, as well as for restaurants, movie theaters, gyms, and more. King County rescinded that mandate effective March 1st. Bellevue College will continue to conduct vaccination or negative test checks through the end of Winter Quarter for all indoor sporting and performing arts events but will lift that restriction at the end of Winter Quarter (unless, of course, conditions change).
Spring Quarter and beyond
It's time for Bellevue College to get back to some normalcy. Beginning in Spring Quarter 2022, all offices will be staffed for normal business hours (Monday through Friday). Supervisors should work with employees to ensure offices are appropriately staffed to meet the needs of students and employees. Our on-ground class offerings (enrolling now) are based on student needs, but we should be moving toward our pre-COVID levels as we schedule future quarters. This shift back to normalcy will continue through the summer and beyond.
Travel
Beginning Spring Quarter, travel restrictions provided in Summer 2021 will sunset. Faculty, staff, and students will be eligible to travel for conferences, professional development, and other business needs. International travel will still be subject to review based on CDC travel recommendations. When considering travel, we ask that employees be mindful of our budget gaps resulting from declining enrollments and COVID conditions at your destination, and to consider remote options when possible. Travel guidelines may be updated as we formulate a budget for next year.
Conclusion
This has been a difficult period for all of us. It's almost been two years since the College went into remote status, and even as it seemed like things were getting better, a new variant arose with new challenges. It's important we all support one another as we come back to campus and work together for our students. I think we're all looking forward to seeing life return to normal and more faces on campus!
Dennis Curran
Vice President of Administrative Services
425.564.2446
Dear BC Community,
I'd like to thank everyone for all that you have done to help keep our community safe during this recent surge in the pandemic. COVID-19 continues to challenge us all, and the very rapid increase in cases and hospitalizations in late December required us all to adapt quickly.
The health and safety of our community remains our highest priority as we continue to monitor and assess the emerging impacts of the Omicron variant of COVID-19. While there is evidence that the number of cases of COVID-19 declined in the last week, we are still very concerned about the impact on those in our community who are at higher risk, and the number of hospitalizations in King County, which puts immense strain on our entire health care system.
Out of care and concern for our BC community, we are planning to move forward with a slow and phased gradual return to campus in the Winter Quarter. Our goal is to balance a successful return to on-ground learning and services while providing flexibility for individual needs this quarter – providing employees and their supervisors with some flexibility to determine the modality of their classes and work.
Staff Guidelines (including all classified, exempt, temporary hourly, and student workers who have been primarily working remotely)
The date for the return to providing on-ground services to campus will be extended one week to Feb. 7 to allow for communication, office planning, and time for transition.
Starting Feb. 7, offices will provide limited on-ground services for students and employees, while continuing to provide online support.
Supervisors will work with their employees to determine on-ground staffing needs and schedules based on providing limited on-ground service.
On-ground hours should be clearly posted.
Classes and Faculty Guidelines
The date for returning on-ground courses to campus will be extended one week to Feb. 7 to allow for communication and time for transition.
Starting Feb. 7, courses that were scheduled to meet on-ground in Winter Quarter will commence meeting on-ground at their scheduled meeting times. However, faculty will be given individual flexibility to adjust their modality for the remainder of the quarter, including extending the date of meeting on-ground or altering the modality to be hybrid or remote.
Faculty should inform their Dean/Chair/Program Manager about their plans and clearly message their students by Feb. 2, so that students are fully aware of the expectations.
Instructors in on-ground classes should make a reasonable effort to meet the needs of students who may also need some flexibility in returning to on-ground learning due to high risk, illness, the need to quarantine, or issues related to daycare or school closures.
Courses that were scheduled to meet entirely online will continue to meet online for the remainder of the quarter.
Ongoing safety precautions:
KN95 masks will be available for any on-ground employees who request them. (The Flu Team is drafting guidelines for distribution and usage, which will be disseminated in the next couple of weeks. In the meantime, a well-fitting disposable surgical mask offers the next best protection. While cloth masks can still be useful, it is best to layer them up for more protection. As soon as we have more information about KN95 masks, we will share it with the campus.)
Everyone in the community is required to be vaccinated or have an approved exemption. Spot checking of student attestations is currently underway to ensure the effectiveness of the vaccination policy.
Through not required at this time, we are beginning to collect booster data from students and employees.
Ongoing protocols regarding masks requirements, quarantine and testing requirements, cleaning caddies in classrooms, ventilation etc. are still in place and can be reviewed on the COVID webpage.
What you can do: We must continue to work as a community to lessen the transmission of COVID-19. Stay home when you feel sick, upgrade your mask, request free at-home tests, and get your booster shot!
Request free at-home tests. Did you know you can now request four free at-home COVID-19 tests per household from the U.S. government? Go to: COVIDTests.gov. You can then enter your name and address to request four tests. Most health insurance providers are also now required to pay for up to eight at-home tests per month for individuals on their plans. Contact your health insurance provider to learn how to access these free at-home tests. Order your COVID-at-home tests now, so you have them when you need them.
Get your booster shot. If you are eligible, please do not wait to get your booster shot. Booster shots offer tremendous protection, especially against the Omicron variant. Booster shots are not required by Bellevue College, but students and employees are encouraged to submit an updated BC vaccination attestation if they received a COVID-19 booster. For more information, visit the Public Health – Seattle & King County website or the Department of Health vaccine locator.
Thank you for your patience and flexibility as we implement a practical and safe return-to-campus plan for the College.
Gary Locke
Interim President
Winter Quarter 2022 Information
Classes began on Monday, January 3rd, 2022.
Most classes that were scheduled to meet in-person will start online instead.
Winter Quarter will start remotely and most classes will continue in this modality through the first four weeks of January (Jan. 3 – 28).
Starting February 7th, many Winter Quarter classes scheduled to meet in person will resume meeting on campus. Some may remain fully or partially remote – look for a message from your instructor about potential changes. Classes initially scheduled to be online will remain online.
Faculty: Plan to meet with your students remotely using Canvas on the first scheduled meeting day of the quarter (Jan. 3 for asynchronous classes), and for most classes, continue to meet remotely through Jan. 28.

Classes with scheduled meeting times should plan to meet remotely at those times.
Starting week 2, a limited number of courses (such as health science courses that have operated on campus throughout the pandemic) will be allowed to meet on campus. Instructors will be provided further information on these exceptions, and once approved, they can let their students know of any expectations to meet on campus in January.

Staff: Most campus operations will remain remote through Jan. 28, and where possible, staff will continue work remotely.

Consider this to be similar to the expectations for your unit before November 2021.
Please work with your supervisor to discuss expectations in your area. When COVID-19 conditions improve, departments will resume progress on their "return to campus" staffing plans.

Employees who need to come to campus must:
It's recommended that employees:

Notify their supervisor when they'll be on campus.
Maintain at least 3-feet of physical distancing when possible.

Student Affairs is regularly communicating with students to inform them of the status of various offices/organizations and will provide information on resources to successfully navigate the Winter Quarter. The updates to students are also e-mailed to faculty and staff and posted on our flu website.
On-campus housing remains open.
For updates to the campus schedule, please visit: https://www.bellevuecollege.edu/studentcentral/calendar/
Please keep checking your official BC email regularly.
Last Updated March 2, 2022