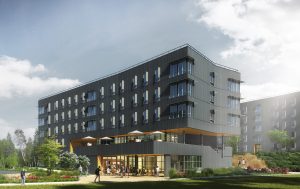 H building is open and ready for occupancy as of Fall Quarter 2018. This project is approximately 132,725 SF building with 350+ beds in 137 units. The unit options are a mix of Studios, 2 Bedroom, 2 Bedroom/4 bed (double occupancy) and 4 bedroom apartments. All units include in-unit kitchens and private bathrooms.
A pizzeria is located on the main level of the HUB and a multi-purpose meeting room is located on the second level. The project features private study areas and lounges on each level.
The building (construction began March 2017, and completed in Summer 2018) is designed to be highly sustainable with a potential for LEED Gold certification.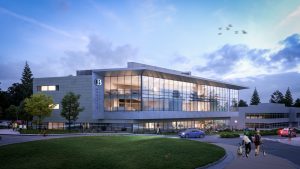 The New Student Success Center is all about breaking silos to put students on the path of success. The dynamic design enriches student experience and leverages staff collaboration and integration for student benefit and success.
The project is currently under construction.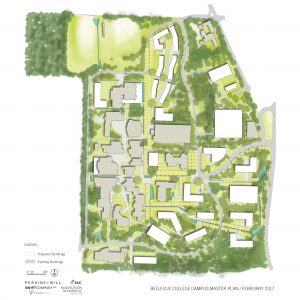 The Campus Master Plan was adopted by Bellevue College Board of Trustees in 2016. This master plan outlines the vision and path for the college's future campus. The scope includes defining future building sites, open spaces, circulation patterns and campus physical capacity as well as planned and future projects.
This document is structured to provide a comprehensive review of current assets and future changes to the physical campus and to assist with decision making within Capital Development.
Last Updated November 8, 2022