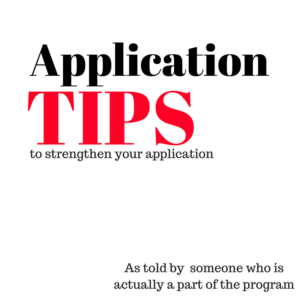 Applications for the Spring 2018 cohort are now open! The Radiation and Imaging Sciences program at Bellevue College is selective admission and selection for the program is not guaranteed. Follow some of the application tips below to strengthen your application (from someone who is actually a part of the program).
Be Prepared. Check out the Radiation and Imaging website prior to starting your application to determine what materials you will need. There are required fields on the application and you may not be able to save and return to the application later. Gathering your materials ahead of time will save you time and frustration in the long run!
Start Early. Don't wait until the day it is due to complete the application. Applications received by the priority deadline will be considered first. Applications submitted by the final deadline will only be considered if there are available space.
Check your spelling, punctuation and grammar. There is really nothing worse than reading a personal statement that is filled with spelling errors or missing punctuation. We recommend having someone you trust to give you an honest opinion read your personal statement before sending it in!
Carefully consider who your personal references are. Personal references from supervisors or colleagues are considered a very good choice. Try to avoid obtaining a reference from a family member or personal friend. If you are not yet a working professional, consider asking a professor from your AA program! The BC professors love to give references to students! Be sure those references are mailed directly from the reference to our program.
Follow directions. Applications that are incomplete or do not follow the provided instructions may not be accepted. If you have any questions, contact the Program Manager directly. We are happy to provide any assistance and avoid late or incomplete applications.
We look forward to reviewing your application. Please be sure to follow the tips above and place yourself in good position. The priority deadline is February 1 and applications close March 1.
Last Updated January 13, 2018