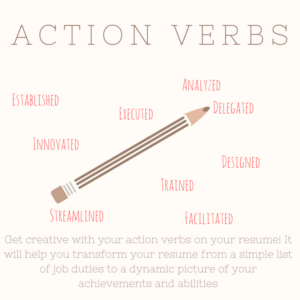 Action verbs can help you transform your resume from a simple list of job duties to a dynamic picture of your achievements and abilities. The list of suggested action verbs below may help you identify your skills and accomplishments. Since all job tasks involve some combination of people, ideas, information, things and procedures, we have arranged the words in those categories.
PEOPLE
Accomplished
Achieved
Activated
Adapted
Addressed
Administered
Advised
Affected
Analyzed
Arranged
Assisted
Chaired
Coached
Collaborated

Conducted
Consulted
Coordinated
Counseled
Delegated
Diagnosed
Directed
Educated
Enabled
Encouraged
Explained
Governed
Guided
Hired
Identified

Influenced
Inspired
Interviewed
Introduced
Led
Managed
Mediated
Motivated
Negotiated
Organized
Persuaded
Presided

Promoted
Recommended
Recruited
Referred
RehabilitatedScreened
Stimulated
Supervised
Surveyed
Taught
Trained

IDEAS AND INFORMATION
Adapted
Advertised
Analyzed
Applied
Assessed
Authored
Balanced
Budgeted
Clarified
Communicated
Conceived
Coordinated
Created
Defined

Demonstrated
Devised
Edited
Established
Evaluated
Exchanged
Executed
Explained
Forecasted
Illustrated
Implemented
Initiated
Innovated
Instituted

Integrated
Interpreted
Launched
Maintained
Manipulated
Marketed
Modified
Monitored
Negotiated
Obtained
Presented
Processed
Promoted
Proposed

Publicized
Published
Recommended
Recorded
Rectified
Related
Researched
Solved
Standardized
Surveyed
Synthesized
Translated
Wrote

THINGS AND PROCEDURES
Built
Calculated
Compiled
Completed
Constructed
Created
Decreased
Designed
Diversified
Drafted
Eliminated

Engineered
Established
Evaluated
Examined
Expanded
Expedited
Fabricated
Facilitated
Formulated

Generated
Identified
Improved
Increased
Indexed
Innovated
Installed
Invented
Operated
Programmed

Purchased
Reduced
Repaired
Revised
Scheduled
Specified
Streamlined
Systematized
Upgraded

This information is courtesy of Megan Sykes from the Health Sciences, Education, & Wellness Institute @ Bellevue College.
Last Updated November 30, 2017