Home
JANUARY, 2022: The Diagnostic Ultrasound application period has been adjusted slightly as we are implementing a new application system in CommonApp this year.  The application period is currently scheduled to open on Monday, January 10th and close on Friday, March 4th.
Bellevue College offers an Associate in Arts degree program that provides educational and clinical experience as preparation for employment and national certification as a diagnostic medical sonographer.  Our program has a selective admissions program which includes specific procedures and requirements that differ from other programs. These must be followed closely in order to be considered for the program.
Diagnostic medical sonographers, echocardiographers, and vascular technologists are a highly skilled individuals qualified by academic and clinical experience to provide diagnostic imaging services using ultrasound and related diagnostic techniques. Graduates are eligible to apply for and take the American Registry of Diagnostic Medical Sonographers' National Certification examination.
Accreditation:
The Diagnostic Ultrasound Technology program is accredited by the Commission on Accreditation of Allied Health Education Programs (www.caahep.org) upon recommendation of the Joint Review Committee on Education in Diagnostic Medical Sonography (JRC-DMS). The program has been placed on Probationary Accreditation as of September 18, 2020.  Commission on Accreditation Of Allied Health Education Programs (CAAHEP) 9355 – 113th St. N, #7709, Seminole, FL 33775  Tel:  (727) 210-2350 Fax: (727) 210-2354
Bellevue College is accredited by the Northwest Commission on Colleges and Universities (NWCCU)
8060 165th Ave NE, Suite 100
Redmond, WA  98052
Regional accreditation of post secondary institutions is a voluntary, non-governmental, self-regulatory process of quality assurance and institutional improvement.
Program News & Updates
Anne Jones Scholarship Award Winner
Bellevue College junior and future vascular sonographer, Ashley Whitman, was one of four nation-wide recipients awarded an Anne Jones Scholarship.  The Anne Jones Scholarship Fund of the Society of Vascular Ultrasound grants one $2,500 and three $1,000 annual educational scholarships for eligible students currently enrolled in an accredited dedicated vascular ultrasound technology program which offers an associate or bachelor's degree in the profession.  It was established in 2005 to honor the many contributions of Anne Jones, RN, BSN RVT RDMS FSVU former SVU President (1985-1986); former Chair of SVU's Government Relations (now Advocacy) Committee.  Ashley was selected based on academic achievement, college and community service, financial need, as well as extraordinary enthusiasm and commitment in pursuit of her vascular ultrasound career. Ashley was awarded a $1,000 scholarship.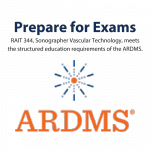 Why vascular sonography? Sometimes I find myself wondering why vascular ultrasound is the specialty that often gets overlooked. In the fast paced medical environment today vascular ultrasound gets thought of as the specialty that only does carotid and deep venous thrombosis examinations. However vascular ultrasound is so much more than that.  About five years ago ...
Click here for more!