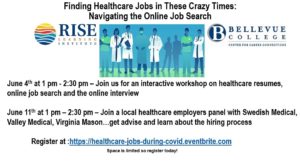 Center for Career Connections presents Finding Healthcare Jobs in These Crazy Times: Navigating the Online Job Search. Any healthcare graduates and current students looking for employment in our local medical systems should check it out.
June 4th 1pm-2:30pm: Join in on an interactive workshop for resume building, job search, and online interviews.
June 11th 1pm-2:30pm: A panel from Swedish Medical, Valley Medical, and Virginia Mason give advice and discuss their hiring process.
Register today! Space is limited. Register here: https://healthcare-jobs-during-covid.eventbrite.com
Last Updated May 26, 2020