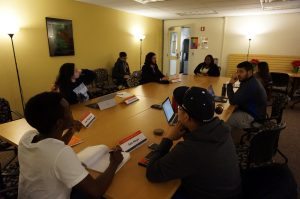 The Student Technology Fee (STF) is a voluntary student fee authorized pursuant to RCW 28B.15.610. The primary purpose of the funds collected through the STF is to advance the mission of the Bellevue College by making broad-based technologies readily accessible to students.
The Student Technology Fee Committee (STFC) is the advisory body to the ASG Board of Directors responsible for making recommendations pertaining to STF collections, distributions and expenditures. Authority to set STF priorities for the yearly budget allocation resides with the STFC, which shall strive to use majority of funds in a manner that benefits the greatest number of students.
The STFC also provides information about overall technology staffing and expenses funded by Bellevue College through other sources to show Bellevue College's commitment to students by providing technology beyond that funded by the STF.
Additionally, the STFC provides guidance and recommendations to the Vice President of Information Technology Services (ITS) about future expenditures and the implementation of emerging technologies.
Student Technology Fee Committee meetings are held every fall, winter and spring quarter. Meeting dates will be published on this page as they are scheduled. Meeting dates are subject to change.