ctcLink at BC
ctcLink Quick Links
Click the buttons below for commonly requested information
ctcLink Training Info
Training Completion Report
Data Validation
Project Dates Spreadsheet
UAT Participant List, Walkthrough & Phase 2 Training
Production Workshop Names & Dates
Frequently Asked Questions (FAQs)
What's happening?
Bellevue College, along with the 33 other colleges in the Washington State Board of Technical and Community Colleges (SBCTC), is transitioning to a new PeopleSoft software system called ctcLink. ctcLink is the implementation of a single, centralized system of online functions to give students, faculty, and staff anytime, anywhere access to a modern, efficient way of doing college business.
However, ctcLink is about much more than new software. As the current 35-plus-year-old administrative system is replaced, BC is examining our core business processes and practices to align with the software as well as the standardized practices that will be used across the SBCTC system.
Right now we are in the Data Validation stage of ctcLink. Data Validation is the act of reviewing Bellevue College data converted by State-Board of Community and Technical Colleges (SBCTC). Data Validators have been identified and an orientation was held on Feb. 18th. Our first cycle begins March 2nd. For more information please visit the Data Validation page. Data Validators can find the resources to perform their duties on the ctcLink SharePoint site.
What are the benefits?
ctcLink will change many of the ways we do things. Once implemented, BC will have a modern suite of online tools and a set of common core business processes. ctcLink benefits include:
Access to information from anywhere at any time
A modern, consistent way to manage student records, enrollment reports, grades, class rosters, scheduling information, tuition and financial aid processes, accounting, state/federal reports, and more
A set of common, mobile-friendly tools to handle college business online, at any time
A single ID and student record that follows students wherever they go within the Washington community and technical college system
24/7 access to an online student center where students can register for classes; handle financial aid processes; pay tuition and fees; add, drop or swap classes; contact an instructor or advisor; manage personal contact information; view grades, track academic goals and apply for graduation
Self-service tools to manage personal information and other college business online
Consolidated payroll processing and a full suite of online HR tools and services
An online, integrated suite of financial tools and the ability to create automated approval workflow processes for purchasing, travel authorizations, expense reimbursements and more
A modern, consistent way of managing and sharing state and federal reports; payroll, purchasing and employee records; recruitment tools and benefits administration
For more videos about the PeopleSoft software being implemented with ctcLink, visit our Resources & Training page for more information.
What is our timeline?
BC is part of Deployment Group 5, which is scheduled to go live in October 2021. In Fall 2019, BC began the preparatory work and readiness activities required of each college in advance of beginning its implementation phase toward Go-Live.  BC completed the Initiation phase in May 2020. 
The Initiation Phase work included hiring a dedicated project manager, coordinating college readiness activities, developing project execution plans, creating and validating Legacy business process maps, allocating resources/budget, and more. 
BC begin the Implementation Phase in June 2020. More than 170 BC staff validated 258 current business process maps created in the Initiation Phase across the three critical areas affected by the implementation: Finance & Student Financials, Campus Solutions & Financial Aid and Human Capital Management.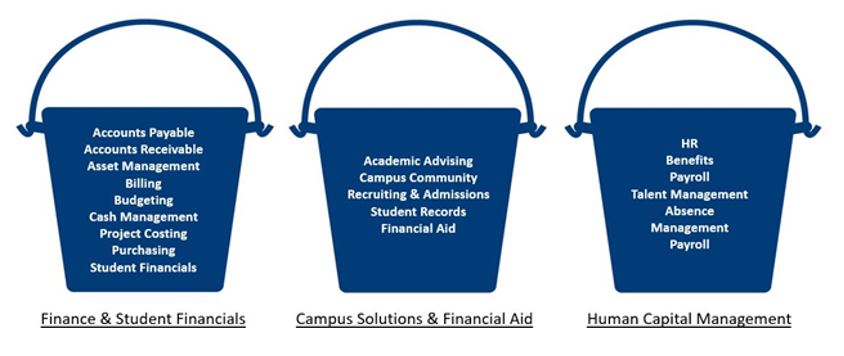 The next step of the Implementation Phase (August – November 2020) compares the current business processes in Human Resources, Administrative Services, Student Services and Academic Affairs with ctcLink processes to determine what changes are required to successfully implement the software. For the month of October, BC staff will spend countless hours completing homework assignments and in Business Fit Gap (BPFG) sessions and Future State sessions learning what will be different about the new software how it will impact the college. With this information, each area will then determine how to configure and design new processes to meet the college's needs.
Once the configurations and designs are in place, they will be tested and validated with the State Board to ensure the integration functions as intended. These tests are planned in stages through fall 2021.