College is Possible!
The College Bound Resource Fair is a unique event created specifically for people with disabilities who aspire to become college students and the families and educators in their lives. The event includes presentations and resources on college programs, preparing for college, transportation, financing college, advocacy and independence, academic support, and much more!
---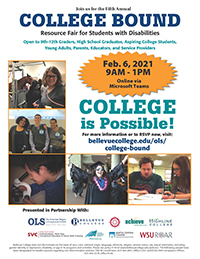 Thank you to everyone who attended the 5th annual College Bound Resource Fair on Saturday, February 6, 2021. This year the event was virtual due to the current health
concerns surrounding COVID-19, and we are so appreciative of the presenters, vendors, and attendees who helped us make this yearly event possible.
All attendees to this year's event should check their emails the week of February 7 for links to recordings of this year's presentations and a survey to provide feedback on this year's event.
Sign up for our newsletter to receive announcements for the 2022 College Bound Resource Fair.
2021 Event Details
---
Presented in partnership with:
Last Updated February 16, 2021