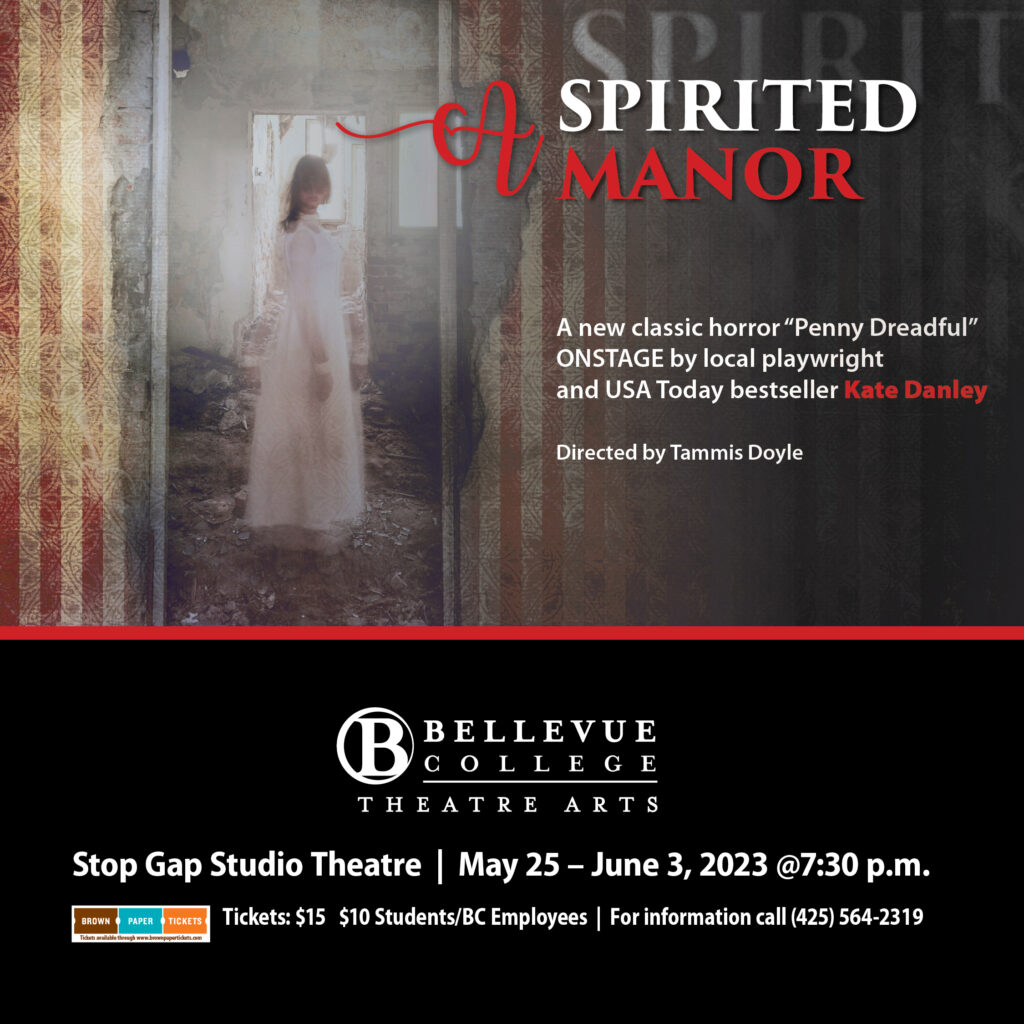 A Spirited Manor
By Kate Danley
Directed by Tammis Doyle
May 25-June 3, 2023
Stop Gap Studio Theater
Auditions for the Spring Production of A Spirited Manor by Kate Danley are on Thursday, Feb. 9, 1:00-3:00 pm and 5:00 – 7:00 pm.  Please sign up for a ½ hour slot.
Please prepare a 1-2 minute memorized monologue from a play.
Sign up by emailing tammi.doyle@bellevuecollege.edu or physically signing up on the bulletin board in the Carlson Theatre Lobby (Building E). If you cannot make this time slot, please contact Tammi Doyle who will make an effort to see every student who wishes to audition.
If cast you will be required to register for Drama 280 – Studio Theatre I for 5 credits.
A Spirited Manor
A grieving widow. A house with secrets. And an invitation to a seance…
When Clara O'Hare's husband passed away, she felt her life was over. But when she moves into a new house to escape the memories, she discovers that she may not be alone… Desperate to find answers, she attends a séance in a remote country home. But something sinister has decided to make itself known and she must find out what the spirits of the manor are dying to tell her.
Some Content Information:
A Spirited Manor is a Victorian penny dreadful, which was a form of pulp fiction sold in the 19th century for a penny. These supernatural horror stories were based in the spiritualism movement and considered absolutely "dreadful." A Spirited Manor contains guns, violence, supernatural curses, and demonic creatures, Victorian worldviews, murder, references to suicide, peril, graphic imagery, (a bit of laughter), and… well… it's a penny dreadful. Ages 14+
Characters: Between 10-14 actors will be cast- possible doubling indicated below
(All characters can be played by student actors of any age, "acting" the age stated.)
Clara O'Hare 20s A young widow
Thomas O'Hare (20s): Clara's late husband
Wesley Lowenherz (20s): A medium
Mrs. Nan (40s): Clara's housekeeper/ Hilda Nero Violet's overbearing mother
Mr. Edgar (40s+): Clara's butler/ Gilbert Horace's butler
Minnie Lowenherz (late teens): Wesley's late sister.
Horace Oroberg (40s+ ): A blustering hunter. Teddy Roosevelt type.
Man #3
Violet Nero (20s): A frail young lady with a French upbringing.
Woman #4
Marguerite Matson (20s): Headstrong, spirited, modern woman for the age
Woman #5 / Nurse
Norman Scettico (20s): A stiff scientist
Man #1 / Cab Driver / Doctor
Clifford Oroberg (20s): Horace Oroberg's son. Cad, coward, scoundrel
Man #2 / MC
Last Updated January 19, 2023