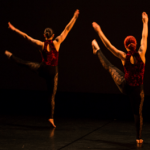 Bellevue College Dance Company (BCDC), under the guidance of the director and run by the students, is set up to be a stepping stone for those dancers that come from private studios, that are looking to transition to either a university level program or to gain an insight to what the dancer life is like outside of their studio walls. It is also a safe and encouraging space for those dancers that would like to explore creating choreography on their own, with feedback from the director or other experienced dancers in the company.
BCDC has several opportunities throughout the year to perform, culminating in their season closing with The World Dance Festival the first weekend of May. The World Dance Festival also invites Clubs from the campus to perform cultural dances or dances inspired by their culture. It is a wonderful opportunity to work with a professional dance lighting designer and choose their costumes. Dancers also get a chance to dance for the Director or choreographers from the greater Seattle area.
Rehearsal times vary, based on the choreographers needs. Most rehearsals will take place during Open Studio on Fridays, with other opportunities throughout the week, including a company class and rehearsals on Thursdays.
BCDC is currently looking for intermediate to advanced level dancers to choreograph and/or dance for the company. Dancers can be trained in any style or genre of dance. Dancers currently in the company have training in Ballet, Jazz, Contemporary, Modern, Pointe, Tap, Hip-Hop, Salsa, Traditional Chinese, Vietnamese and Cambodian dance plus many more!
Dancers for the company are required to be Bellevue College students, faculty or staff and are encouraged to take dance classes at Bellevue College.
Contact Information:
If you are interested in the Dance Program or would like more information, please contact the Director, Jenna Spinei.
Jenna Spinei, Director
Phone: 425-564-3223
e-mail: jenna. spinei@bellevuecollege.edu 
Room: R016
Last Updated January 19, 2022