"The Theatre Arts Department of Drama and Dance performs in the Carlson and Stop Gap Studio
Theatres, both housed in the Carlson Theatre Building, Building E. The 300 seat Carlson Theatre was named after Bud Carlson, founder of the BC Drama Department. The 60-80 seat Stop Gap Studio theatre is a "black box" theater in which the seating and stage units vary from show to show. Theatre Arts/Drama also has a history of exciting alternative staging and has performed on the BC Soccer Field and in addition has asked the audience to move between the theatres, Lobby and various classrooms during performances..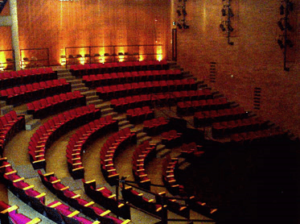 Program History – Bud Carlson, for whom the theatre is named, founded the BC Drama Department in 1968. Bonnie Wallace-Hoffman, Director and Acting Instructor assumed leadership when Carlson died suddenly a year later. "Stop Gap" was the name of the classroom used as a theatre while the theater was under construction then became the name of the Studio in the Carlson Theatre Building.
In 1978, Rob Jackson was hired as Design/Tech Faculty and Manager of the Drama Department and Carlson Theatre. Both Rob Jackson and Bonnie Wallace- Hoffman retired in the early 2000's and in 2005 Tammis (Tammi) Doyle became Chair of a new combined Theatre Arts Department of Drama and Dance.
Rounding out the committed faculty in Drama are Tammis Doyle (Acting, Musical Theatre), Karen Jo Fairbrook (Acting, Shakespeare, Dialect Coach), and Bradetta Vines (Acting, Audition, Musical Theatre, Movement.)  All faculty teach Drama 101- Introduction to the Theatre.  Jenna Spinei is the core Dance Instructor and director of BC/DC, Bellevue College's Dance Company.
.
Last Updated August 21, 2023