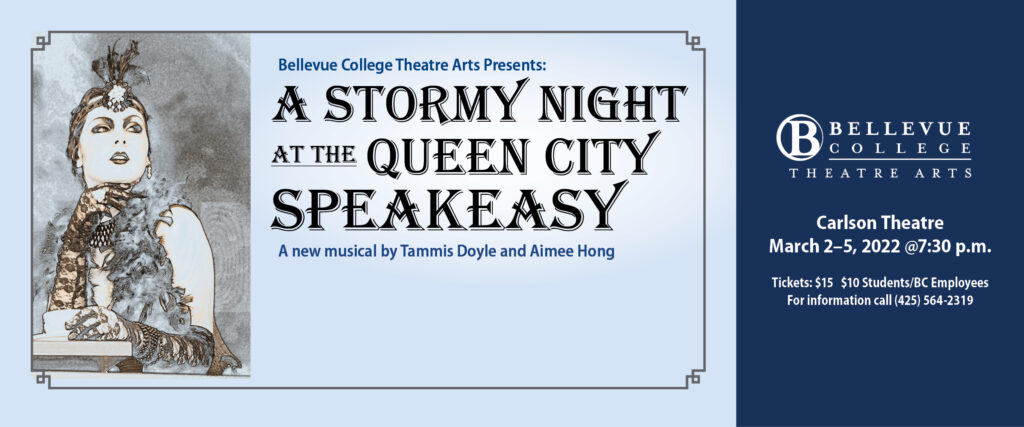 Performance Dates
Wed-Sat, March 2-5, 7:30PM
Tickets
General: $15
Student/BC Employee: $10
Venue
Carlson Theatre- Bellevue College
Parking
Visitors should use Parking Lot 14
BUY TICKETS
Bellevue College Theatre Arts with the Bellevue College Dance Company Presents
A Stormy Night at the Queen City Speakeasy

A new musical by Tammis Doyle and Aimee Hong.
While a storm rages outside the Queen City Speakeasy, drinkers dream, deal and deceive, singing songs from the 1920's in the hottest jazziest bar in Seattle.

Tammis Doyle, director
Aimee Hong, music director
Jenna Spinei, choreographer
Content Info: Some light swearing and mention of possible suicide. Appropriate for ages 12 and up understanding the Content Info.
COVID Safety
Prior to entering the facility and based on King County regulations, masking and proof of vaccination (or negative COVID-19 test) are required for all people ages 12 and older.
---
AUDITIONS
Auditions for the Theatre Arts musical A Stormy Night at the Queen City Speakeasy are Monday, Nov. 22 from 4:00 – 6:00 pm and 7:00 – 9:00 pm.
Actors will be called for an hour in which they will perform their audition pieces and read and sing from the show. Sign up for your audition slot by emailing Professor Tammi Doyle at tammi.doyle@bellevuecollege.edu or calling 425-564-2319.
Please prepare: One- two-minute-long memorized contemporary monologue. A verse and a chorus of a song from a Broadway musical with sheet music.
If you do not have a monologue or a song please contact Professor Tammi Doyle. Scripts available to read in the Carlson Theatre Lobby from Tammi as well. The music is available from many streaming services.
There may be added auditions and callbacks on Tuesday evening Nov. 28 from 7:00-10:00 pm.
If cast you must register for Drama 284 for 5 credits (Musical Theatre Performance I) or Drama 285 if you have taken Drama 280 or 284.
Last Updated May 26, 2022