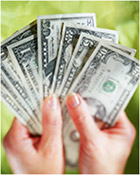 Some students need to work in order to meet educational and living expenses, while others work because they feel the experience can be a valuable part of their education.
Here are some reasons to consider working while you're in school:
The skills obtained from working complement academic performance and communicate to future employers the ability to succeed in a professional setting.
You can earn money to pay for expenses and reduce the necessity for student loans.
You can gain practical experience.
It's a way to get work experience that you can add to your resume. Almost any job can enhance fundamental skills such as communication, time management, customer service, etc.
Having your own source of earned income can provide you with a heightened sense of independence.
Here are some reasons to pursue a Work-Study job:
Most Work-Study jobs are on-campus, which is very convenient.
If you work on-campus, you also develop a sense of community and you connect to Bellevue College resources.
Work-Study employers will work with you to make your work schedule mesh with your class schedule. You will not be asked to work during class times, and employers are flexible in allowing time off for studying for exams.
Work-Study wages are not counted towards next year's student contribution for financial aid.
Last Updated July 21, 2022