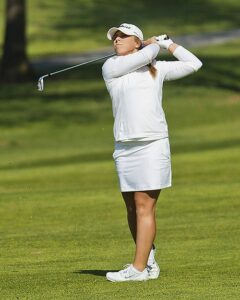 Bellevue women's golf continued their recent dominance in women's golf in the NWAC by winning their third title in the last four years. Held at Oakbrook Golf and Country Club, the squad shot a two-day total of 47 over par; 29 strokes better than runner-up Olympic College.
Lindsey Gullikson finished second overall in the individual standings and led Bellevue's team by shooting 74-73.Gullikson double-bogeyed the 17 hole which dropped her out of the lead for the individual title down the stretch. Gullikson lost by one stroke to Columbia Basin's Naydeen Martinez.  Kendra Meeker (84-83) finished tied for fifth while teammate Meg McMullen (85-83) finished seventh. Other BC scores included Sam Saleba (89-80), Dana Fox (93-85) and Meredith Johnson (97-96).
Bellevue dominated the NWAC women's golf scene, winning six matches this season. The Bulldogs won all three league matches in the spring at North Idaho, Bellevue, and the league-hosted match at Apple Tree GC in Yakima.
Last Updated May 19, 2015