Home
Welcome to BC Athletics!
Bellevue College is the home of the Bulldogs, including 11 men's and women's sports teams that have earned regional and national awards. We are part of the Northwest Athletic Conference (NWAC), which regulates intercollegiate athletic competition for 36 member colleges.
FEATURED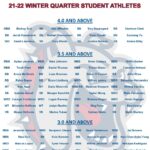 BC Athletics congratulates our outstanding student athletes for their Winter Quarter 2022 academic performance. Academic All-Stars (Winter Quarter)
More ..