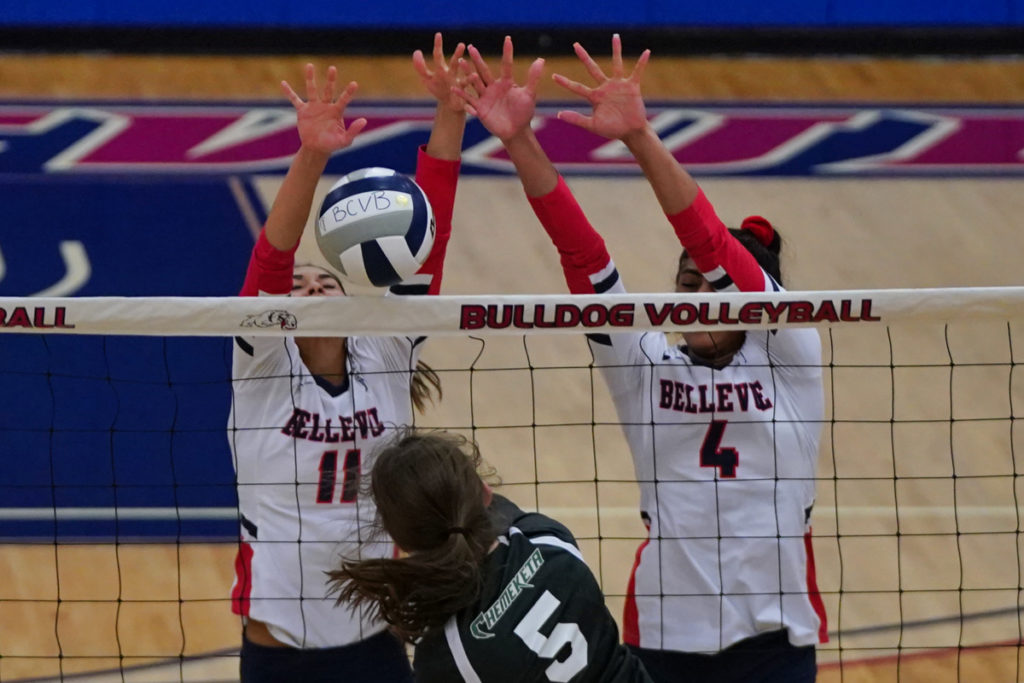 After sitting in neutral for more than two weeks, the Bellevue College volleyball team is going to quickly have to shift into tournament gear.
The Bulldogs, whose last conference match was Nov. 6, open play at the NWAC Volleyball Championships on Thursday at 4:30 p.m. against Lane at the Greater Tacoma Convention Center in Tacoma. The tournament runs Nov. 21-24 with the championship matches slated for Sunday.
"At first, I was kind of worried about the layoff being that long," Bellevue coach Jocelyn Lawrence said. "But we had some injuries at the end of the season and that gave us a little bit of a break. So, we were able to take a few days off, which helped."
The Bulldogs, who have an all-freshmen roster for the first time under Lawrence, finished third in the NWAC North Region at 8-4, with three losses coming in the final five matches.
"It was a little bit of a group of freshmen trying to figure things out, and switching a few things around here at the end of the season, too, to try and nail down that perfect lineup," Lawrence said. "And, teams came hard at us and our group of freshmen just kind of realizing that that's what going to happen the second go-around."
"Really good lessons learned. I think it pays to our advantage going into the NWAC tournament having seen some of those hard losses and adversity that we saw at the end of the season vs. having gone 12-0, or something like that," Lawrence said.
Lawrence is pleased with how her young team has developed.
"They've learned a lot this season," she said. "They have really grown, not only on the court, but off the court. They learned how to mesh together and that they have to show up every day."
"The North Region, this is definitely by the strongest year, in my opinion, in the time I've been here coaching," said Lawrence, who took over as head coach in 2014 after three seasons as an assistant at BC. "Which is fun, which is nice. It makes us feel like we're more prepared for the NWAC tournament."
With no returning players to rely on, balance has been one of the keys this season, Lawrence said.
"At some point, everybody's kind of been that person for us this year," she said. "We've kind of pushed them all to be leaders throughout the whole year."
"We definitely have very strong leaders on our team, it's just they had to learn kind of the hard way a little bit this year, which is a good thing," Lawrence said. "We've had different people step each match this year."
BC, 24-11 overall, defeated Lane twice this season, once in the season-opening match in late August and then again in early September at the Bellevue Invitational.
Lane tied for first in the NWAC South with a 14-2 mark and is 23-9 overall. With the schedule of a nine-team region, Lane enters the tournament with a much shorter layoff, played its final conference match last Thursday.
"Honestly we didn't really focus on those two matches at all," Lawrence said. "We didn't even bring that into our conversation because both of us have changed so much since then. So, there's not much that those matches really can help us with at this point. We focused more on film of them recently."
At this point of the season, Lawrence said it's important to focus on playing well and executing, as opposed to worrying too much about the opponent.
"Those moments where you need to get something, having that strategy and having that go-to move, helps," she said. "But at the end of the day, we focus a lot on taking care of business on our side of the court."
Last Updated November 25, 2019