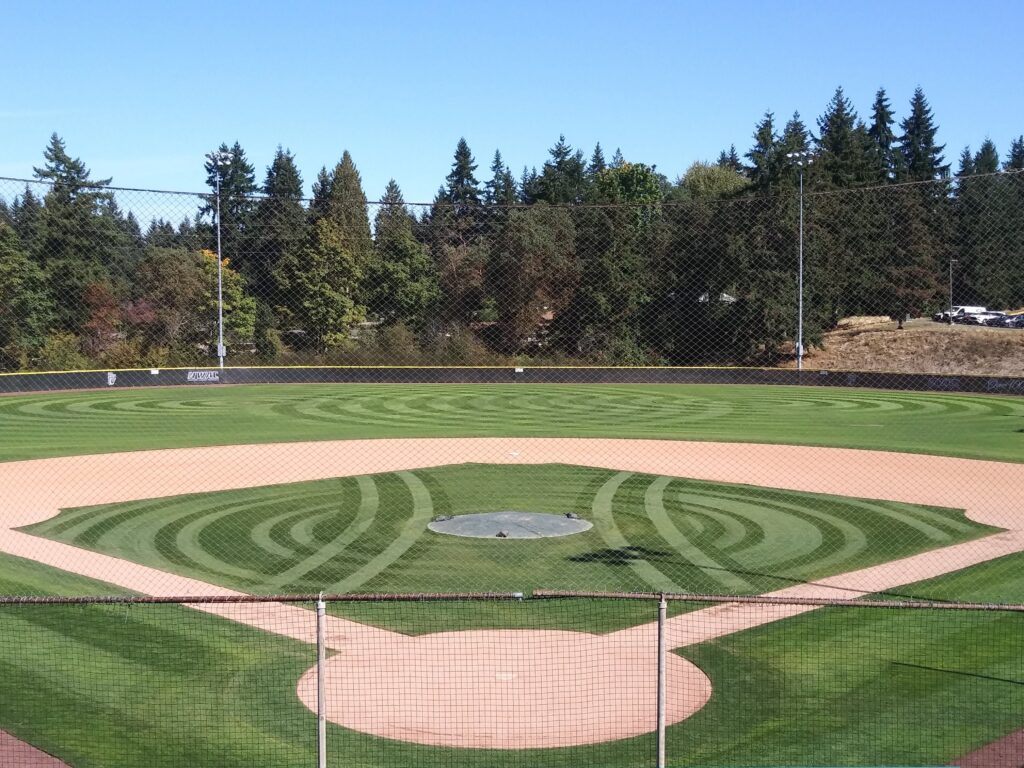 2022 marks a special year on many fronts for Bellevue College baseball. It will embark on its 53rd season with 50 winning seasons and only two losing (in the early 1980's) in that time span. The tradition finally continues as the first full season with a championship begins tomorrow at three-time defending NWAC Champion Lower Columbia.
The club is also getting a fresh start with a predominantly freshman roster, a group of recruits from the covid-shutdown summer of 2020, and an administrative transition in which there will be co-Head Coaches in Mark Yoshino and David Olson. "For the returners, it's nothing new…it's been the common practice for several years now. It's been advantageous for our guys since they have two head coaches there full-time on campus for anything. Within our program on a daily operations basis, we're co-Head Coaches. On game days, since David will be there every day and I will not, he'll be Head Coach. Missing a few BC games will be tough, but will be rewarding so I can experience being a 'volleyball dad' for my daughter. It's a big year for David; he'll get invaluable experience making lineups and substitutions. He also recently got engaged to an athletics-savvy fiancé who can sit through a long doubleheader; little does he know he is already halfway home to a successful marriage because of that. The hardest part of this transition won't even be on the field; he'll have to get rid of that title "recruiting coordinator" as that's a feel-good title for aspiring assistants, not head coaches," Yoshino noted.
Here is how Coach Olson sees the 2002 team in this season preview…
Q: Give a brief rundown by position group of what to expect: (players are listed with high school and summer club ball team name)

A: Outfielders: 
Our outfield this season is one of the most athletic groups we have had.  With all six players touting some respectable speed, we have some good combos out there.  Parker Cumberland (Meadowdale HS / Rush), Nate Cain (Monroe HS / Legends), Marcel Jones Jr. (Chief Sealth HS / City Baseball) and Josiah Santiago (Archbishop Murphy HS / Baden) all have a plus speed tool along with good bat control at the plate.  Bryce Lindberg (Shorewood / Shoreline) and Cam Hoiland (Kentridge / Diamond Sports) also have some wheels but have a more powerful swing.  This group is exciting, as almost all were high school center fielders.  We are hoping not many balls touch the ground out there this season.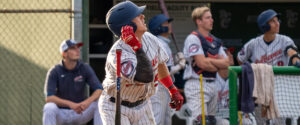 Infielders:
Our infield is another dynamic group of players.  Eunsang Yu (Inglemoor HS / NW Bandits), Harrison Clark (Mount Si HS / Washington A's), and Rylen Bayne South Kitsap HS / Narrows) will be playing on the corners, and all have the potential to put the ball out of the yard.  Troy Baunsgard (Mount Si HS / Washington A's) and Abe Affholter (Everett HS / Tides) tout the speed and power combo with the ability to play any position.  Remy Heckman (Edmonds-Woodway HS / Rush) is a solid bat and steady defender.  Daniel Goon (Decatur HS / Diamond Sports) is another speed and contact guy with the ability to showcase a dynamic game. We unfortunately lost one of our top players, Kenji Suzuki (Eastside Catholic HS / U of Hawaii / Chaffey) to a ligament knee injury which will likely put him out for the entire season. This group is athletic and gives the coaching staff the ability to play a solid defensive infield while maintaining steady offensive production.
Pitchers:
Our pitching staff is comprised of a lot of potential.  Our lone third year veteran Jacob  Dahlstrom (Eastside Catholic HS / Washington A's) and Dylan O'Connor (Stadium HS / Baden) return with the most prior experience and have continued to develop into quality arms for the next level.  The other sophomores, Lindberg, Avery McGinnis (Ballard HS / City) and Ian McIntosh (Kentridge / Rock Creek), have also worked hard and should contribute to the staff's ability to get outs and provide quality innings.  Of the freshman, Bayne, Jacob Kaepernick (Sehome HS / Sweets), Hoiland, Liam Brennan (St. Thomas (MN) HS / Mudville), Masen McDonnell (Capistrano Valley (CA) HS / Southern California Renegades), Nate Rasmussen (West Seattle HS / Go Time), Ryan Lynch (Monroe HS / Sweets) and Kole Bennett (Tahoma HS / Rock Creek) have already shown the ability to adjust and show wipeout stuff on the mound.  As a group, this staff is working toward being strong from top to bottom.  Efficiency while keeping the opposing hitters guessing and off balance will be a recipe for success.
Catchers:
Our catching crew is strong.  It showcases the returning sophomore Tyler Miller (Nathan Hale HS / Baden) and the two freshmen Jack Rhea (Eastside Catholic HS / Washington A's) and Damon Ingram (Notre Dame Prep HS (AZ) / Firebirds).  Miller and Ingram both tout left-handed powerful swings with good arms behind the dish.  Rhea is the righty swinger with great receiving and blocking ability.  All three catchers have shown good ability to work with the pitching staff and show leadership on the field behind the plate.
Q: Give a brief assessment of how this team has developed from day one in the fall to now, a day before the long-awaited season opener?
A: This team has worked hard since day one in September.  From offense to defense to the pitching staff, we have stressed development of the fundamentals in all aspects of the game.  Through this we have seen improved swings, throwing mechanics, and fielding consistency.  Additionally, we have spent a lot of time in the weight room which has led to increased throwing velocity for the pitching staff and power in the sticks of the hitters.  While practicing these skills, we have also stressed the importance of game speed reps.  This has helped us to increase experience in stressful situations and we feel this team is now ready to compete for an NWAC Championship.
Q: You had a lot of veterans last year with covid returners and a roster 34 deep. This year with a relatively new and small roster of 26, what stands out as differences between the two?
A: Last year's team of 34 earned the honor of a top 50 national ranking.  This was high praise of a well deserving group. That set the bar high for this relatively new group of players.  Time will tell how this team measures up, but there are some significant differences that may give this year's team the edge.  Offensively, last year we were full of experience and power.  Batter 1 through 9 in the lineup was able to leave the yard which made us a threat at the plate.  This year, we still have some quality power bats, but as a group we are one of the fastest and most athletic teams we have had.  Batters 1 through 9 of this team can swipe a bag and we think the athleticism will showcase a superior defense.  Our pitching staff last season was full of power arms with 6+ players who were 90mph and up at times.  This year's pitching staff might not be the same "power" group of arms but are showing the ability to have wipe out stuff.  Their ability to throw multiple pitches for strikes on command could give this staff the edge.  Needless to say, we are excited about how this season will end up.
Q: Looking back from the 2019-20 shutdown year to last year's shortened no championship season to this year, has anything changed for this year mindset-wise with you and also the team?
A: As a coach, spring baseball season is always the best time of year.  We get to see our athletes hard work pay off.  That said, nothing has been harder than having to tell our team in 19-20 that the season was canceled.  This gave literal meaning to "play each game like it could be your last."  Our athletes work so hard throughout the fall and winter to get their cherry on top of the cake during baseball season.  Last season, our team set out with a goal to play every game like it was their last.  They were rewarded with a national ranking but couldn't experience the thrill of a championship run.  Now with this team, we get the best of both worlds.  I believe our squad has that mindset.  While these guys, other than our one third year holdover Dahlstrom, weren't part of the canceled season here at BC, many had their high school seasons affected.  They felt that hurt of not getting their dessert and are hungry for it now.  This has fueled our training all year and has been a big contributing factor to why this team has grown and developed so much.  I think because of that, this group is focused to attack this season with full intent and give it their all for an NWAC Championship run.
Last Updated February 18, 2022