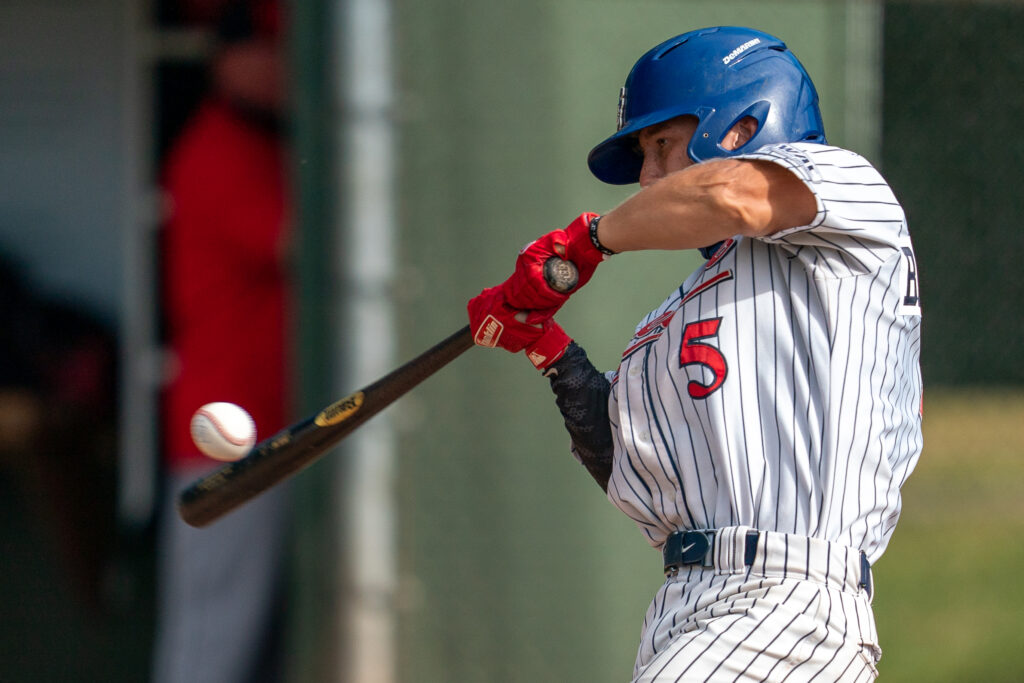 Bellevue College Baseball took the four-game series this weekend in the yearly matchup between annual powers, sweeping the Trojans Sunday by scores of 7-6 and 10-3 and splitting yesterday winning 10-6 before falling 8-7 in the nightcap. In the game four finale, the 'dogs nearly swept all four games by rallying late to tie the game at 7 before losing in the bottom of the ninth.
Nate Rasmussen came up big on both days for Bellevue, pitching 4 1/3 shutout innings in relief in the opener before being called for duty out of the bullpen again in game three.
In the opener on Sunday, the Bulldogs found themselves down 6-2 for much of the game as Rasmussen kept the Trojans silent offensively. BC would rally for three in the sixth as Nate Cain delivered a key RBI single after Everett went to the bullpen to replace starter Kenji Miller. In the bottom of the eighth, in the middle of a mixed hail and snowstorm, Cain again came through with an RBI triple to score Parker Cumberland who singled. After Troy Baunsgard was intentionally walked, a muffed ground ball by Everett's second baseman allowed Cain to cross home for the game winner.
In the Sunday nightcap, BC put up eight runs in the first three innings as Jacob Dahlstrom settled in on the mound after the first inning to work six innings while Rylen Bayne, Marcel Jones Jr., and Cumberland all delivered hits in the big five-run third.
In the Monday opener, Bayne started on the mound for Bellevue and kept the 'dogs in it with a 4-2 lead. Bellevue's bullpen would then walk 11 batters in the next four innings to give Everett a 6-4 lead before another late run by Bellevue's offense. In the seventh, consecutive hits all with two outs by Josiah Santiago, Cumberland, and Cain would plate one run to make it 6-5 before everything went Bellevue's way in a five-run eighth as four hits, two walks, and two errors led to the win. Rasmussen entered on the mound and executed a perfect 1-2-3 double play to end the game.
In the series finale, Everett jumped ahead 5-1 before Bellevue would chip away and end up tying the game 7-7 on leadoff walks to Tyler Miller and Cam Hoiland led to a three-run ninth inning on only one hit. Everett then won the game on a wild play that sent first baseman diving for a ground ball that allowed Everett's Cameron Green to score the game winner. Baunsgard was 3-for-3 in the game.
The series win puts Bellevue in good position atop the North Region with a 7-1 record. The Bulldogs travel to Surrey, British Columbia Saturday for a doubleheader against Douglas before returning back to the States for an Easter Sunday twinbill. Both days have 1:00 p.m. first pitches.
Last Updated April 12, 2022