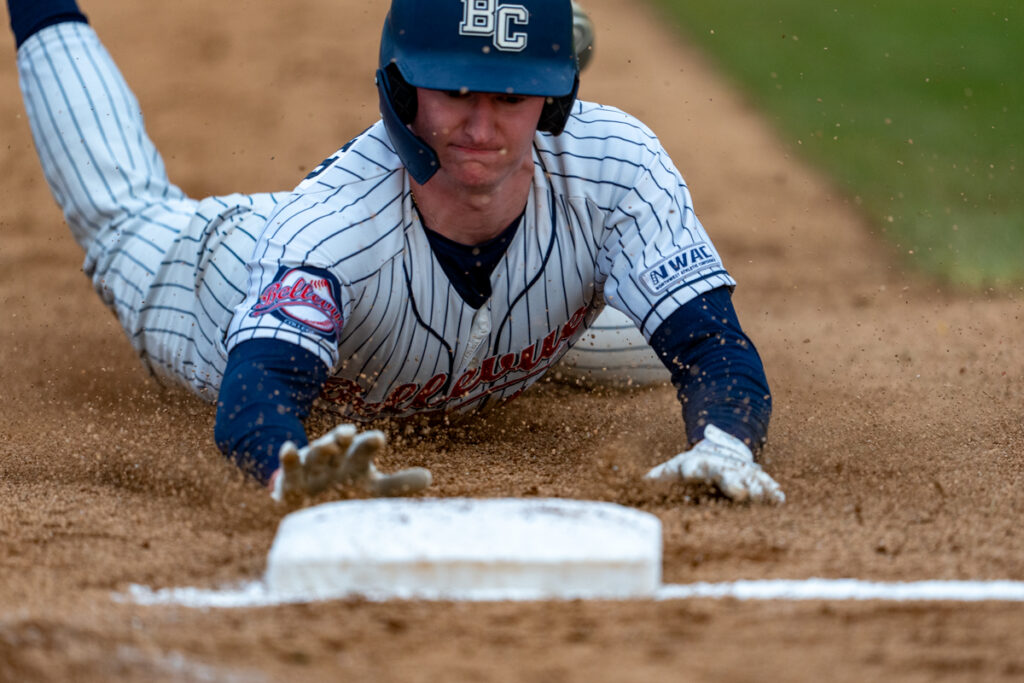 Bellevue College baseball split a pair of doubleheaders over the weekend in a key series against Edmonds. On Saturday, Bellevue fell 10-0 in the opener before winning 14-0 in game two. It was believed to be the first time in Bellevue-Edmonds history the two teams shutout and won by the 10-run rule over each other in the same day. The lopsided wins were also two of the fastest games played, as the entire doubleheader and intermission time took just over four hours. In the opener, Rylen Bayne was dominant on the mound for five innings, outside of an early two-run home run which ultimately was the game-winner. Bayne tired in the sixth before the Tritons blew it open with seven runs. BC's bats could not generate any rally for the entire game as the 'dogs were silenced offensively with three hits.
In game two, Dylan O'Connor threw a shutout for six innings before giving way to Avery McGinnis who preserved the shutout in the seventh. Cam Hoiland homered in the second while Eunsang Yu had five RBI's in the win.
On Sunday, the blowouts continued as Edmonds took it's turn again in an 11-0 win. Jacob Dahlstrom gave up only two runs in six innings of work and exited down 2-0. Edmonds then put up six runs in the seventh to initiate the blowout. Bellevue had nine hits but all came at untimely situations, and had difficulty establishing any threats with less than two outs for the entire game. In the finale, Bellevue did not shutout Edmonds, but left content with a split in a 7-5 win. Hoiland went four innings without issuing a walk in earning the save on the mound. Josiah Santiago homered to lead off the first inning for BC as Troy Baunsgard and Parker Cumberland each had three hits.
Bellevue is now 13-3 in league and in first place by one game over Everett. The Bulldogs travel to Bremerton Saturday May 7 for a 1:00 p.m. doubleheader at Knights Field before a Mother's Day header at home at 1:00 p.m. as well. All moms of BC baseball players in attendance will receive a mother's day bouquet compliments of their sons at the field.
Last Updated May 2, 2022