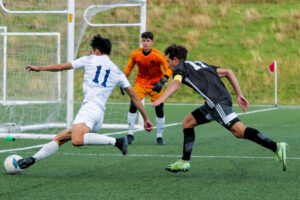 Bellevue College men's soccer lost 5-1 today at Skagit Valley. In a game that statistically was evenly-played but was not reflected on the scoreboard, the 'dogs had 10 shots as compared to Skagit's 11. Unfortunately, five of the seven Cardinal shots on goal found the back of the net for the lopsided win.
Skagit jumped out early with goals at the 1:13, 15:15, and 24:24 marks. Bellevue found themselves down in a hole before midway through the first half.
Down 3-0 to start the second half, BC got on the board early just a minute into play on a goal by Thomas Nguyen. Bellevue could not carry the momentum and went scoreless the rest of the game.
Skagit Valley added insurance goals at 72:41 and 77:01 as the Bulldogs ran out of steam.
Bellevue falls to 5-4-3 (6-4-3 overall) and will host Shoreline this Saturday at 2:45 PM.
Last Updated October 12, 2022