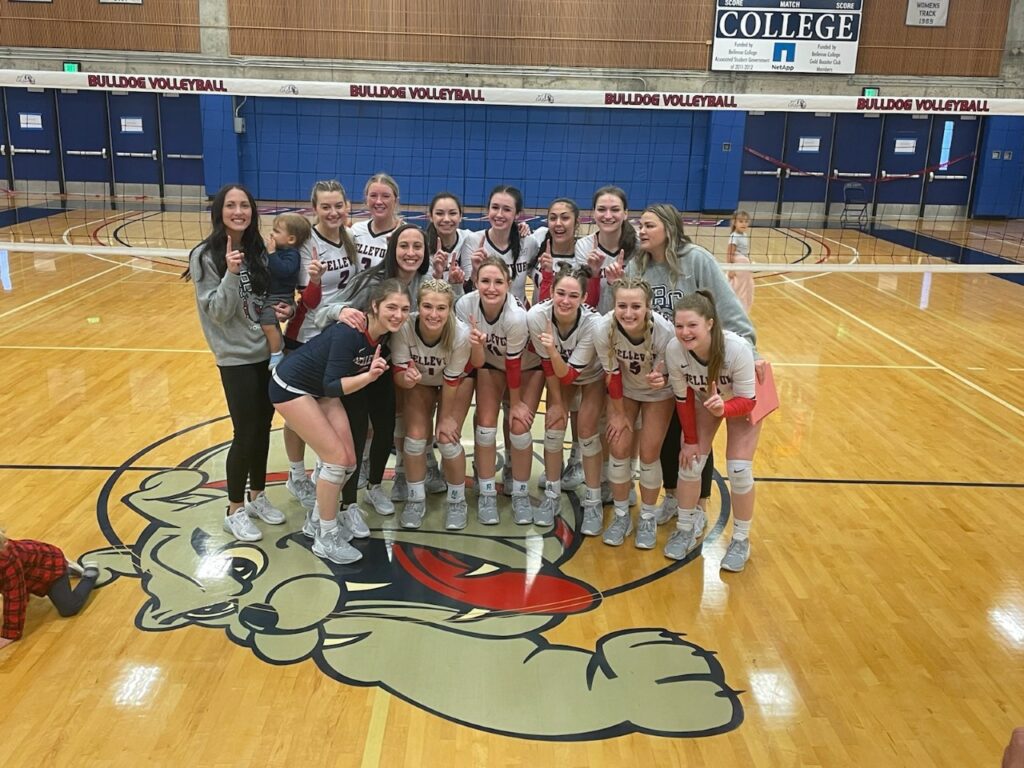 Belllevue College volleyball pulled off yet another dramatic comeback in today's NWAC Sweet Sixteen Regional Championship with a 3-2 win over Yakima Valley. The Bulldogs fell behind 2-1 before staging an emotional fourth set comeback then rode the momentum in set five to stun the visiting Yaks. The win gave Bellevue the North #1 seed in next weekend's Elite Eight at the NWAC Championships hosted by Pierce College in Tacoma.
Bellevue fell behind early 25-16 and 25-18 in one of the coldest offensive outings for the season as the 'dogs swung at a mere .041 percentage, committing 13 errors. The offense then doubled their kills in set three putting 16 down in a 25-19 win before the big fourth set.
Tied at 10, BC gave Yakima all the momentum going up 16-10 over BC. With a significant deficit to overcome, Bellevue rallied back behind a pivotal three point swing on two kills by Marin Mackey and Meg Perry and an ace by Lauren Wittmers. Down 17-16 the 'dogs hung with Yakima the rest of the way and stole the thunder as Mackey delivered two big kills down the stretch to seal the emotional 26-24 win. From there Bellevue would dominate jumping up 9-3 in the 15-point set to win.
Bellevue was led by Mackey who dominated with 17 kills on only four errors and had 21 digs, second to the 22 of libero Kate Hansen. AJ Gueller, Peytin Thompson, and Makenna Mosher each had nine kills. Lauren Wittmers and Taylor Pederson had 22 and 24 assists respectively.
Bellevue advanced to today's championship after an opening 3-0 win over Rogue (OR) yesterday. Bellevue will begin play in the NWAC Elite Eight this Friday at Pierce at 11:00 AM against the East regional #2 seed.
Last Updated November 13, 2022