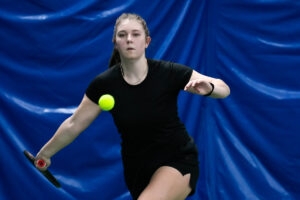 Bellevue College women's tennis kicked off the 2023 season in strong fashion with an impressive 6-3 win over WIllamete University at the Salem Tennis and Swim Club.
Santamon Ransibrahmanakul took home the #1 singles title winning in commanding fashion 6-3, 6-0. Justine Mangkornkeo won #3 singles 6-0, 6-2. Bean Lowe was the most dominant for BC winning #4 singles 6-0, 6-0. Tess Wimer won #5 singles 6-2, 6-4 while Esther Nguyen took home the final singles slot winning #6 singles 6-2, 6-1.
In doubles play, Mangkornkeo paired with Emily Habib to win #3 doubles 8-4.
Bellevue challenges another four-year team, Pacific Lutheran University on Friday March 4 at 6:30 p.m. at Harbor Square Athletic Club in Edmonds.
Last Updated February 19, 2023