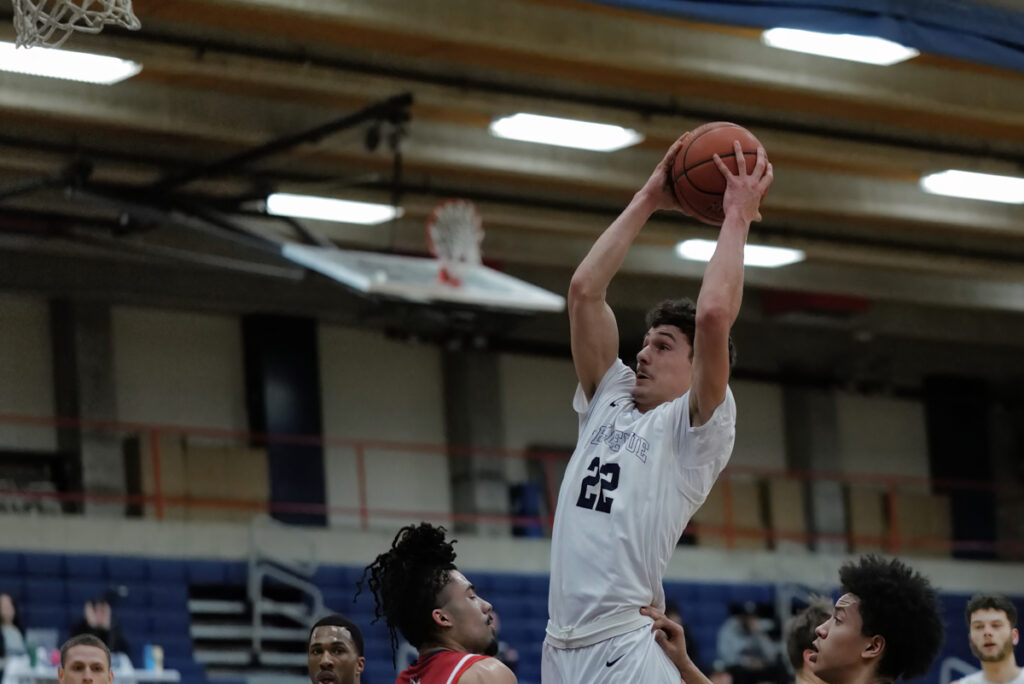 Bellevue College men's basketball finished the Sweet 16 with the upset of the tournament, knocking out unbeaten North Idaho 63-60 at the NWAC Basketball Championship, presented by Sun Pacific Energy, on Saturday night at Columbia Basin College. The #4-seed Bulldogs (20-9, 9-5 North) finished a wild day of upsets as all #3 and #4 seeds won their Sweet 16 games on Saturday. The Bulldogs was perhaps the biggest upset of them all considering their opponents were undefeated with a 28-0 record entering the tournament and unanimously picked No. 1 in the NWAC Coaches' Poll.
Bellevue used its athleticism to force tough shots for the Cardinals offense that average over 90 points per game during the regular season. The Bulldogs held the Cardinals to 37.7 percent shooting overall, and 21.4 percent from beyond the arc.
The Bulldogs also got clutch plays down the stretch from Sayerr Senghore who had the go-ahead basket, and Owen Moriarty who made two free throws with 13 seconds left to put the Bulldogs up by three.
Moriarty struggled shooting in the first half but found his stroke in the second half, finishing with a game-high 21 points. Senghore had a double-double of 15 points and 10 rebounds while Prophet Johnson added a double-double of 10 points and 10 rebounds with four assists.
For the Cardinals (28-1, 16-0 East) Cobi Campbell sliced his way to 16 points with six rebounds as he was dangerous with the ball all night. Brendon Johnson had 10 points, four rebounds and four assists.
The Bulldogs move onto the Elite Eight on Sunday, facing #3 Tacoma at 4 p.m.
Last Updated March 12, 2023