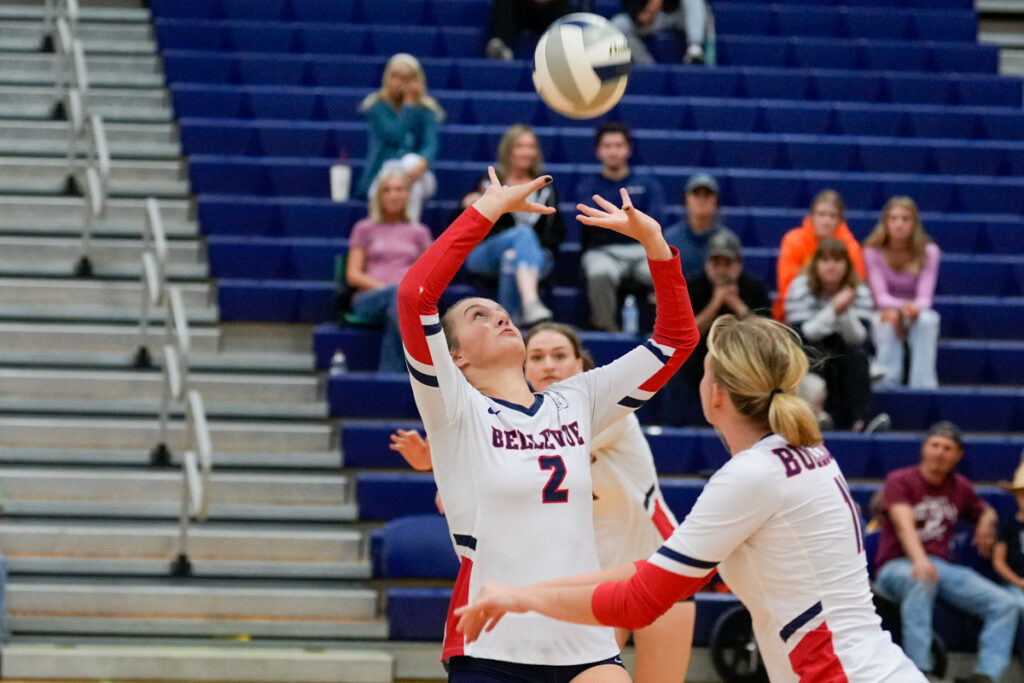 Bellevue College continued their winning ways as the Bulldogs traveled south to play Pierce, Lower Columbia, Chemeketa, and Clackamas.
On Thursday Sept. 7, Bellevue swept host Pierce 3-0 by scores of 25-17, 25-23, 25-18 before taking a close one in five over Lower Columbia (19-25, 25-21, 25-21, 21-25, 15-10).
Peytin Thompson paced BC in the opener with 10 kills on 17 swing attempts with no errors.
In the LC match, Emma Heywood was on fire with 25 kills and only four errors with a .429 percentage. She also had 10 digs as well. Setters Mandi Nottingham and Lauren Wittmers each dished out 26 and 27 assists respectively while sophomore Tommi Gallucci had 28 digs and also had four service aces.
On Friday Sept. 8 BC swept host Chemeketa in Salem, OR 25-17, 25-16, 25-20 as Jessi Mahler had 11 kills and 13 digs and two service aces. Wittmers had 17 assists.
Bellevue closed out the trip with a 3-1 (25-19, 17-25, 25-22, 25-18) win over host Clackamas. Heywood, who opened up the road trip with the heavy hand, finished with a bang again with 20 kills. The defense was all over the court as the 'dogs had 66 digs in the match led by the 25 by Gallucci. Lauren Wittmers showed complete game as the setter had 24 assists but also 10 digs on the defensive front as well.
The Bulldogs are 10-2 overall and are riding a six-match winning streak and face Tacoma tomorrow Sunday Sept. 10 at 2 p.m.
Last Updated September 9, 2023