Want to stay on track in your classes? Or get some support in organizing assignments or making a study plan? Can't find what you're looking for on the BC search engine? Need an answer to a question or help connecting to resources? Something else? Stop by to ask, either on campus or online! We are here to set you up: see below.
Drop-In with Peer Mentors
Peer mentor drop-ins will begin the third week of Fall Quarter! If you need something in the meantime, please:
Email, text, or chat with us any time! We will respond as soon as possible, Monday through Friday, 8:30 AM – 4:30 PM

Email us at asn@bellevuecollege.edu.

Text Us at (833) 227-4551

Click to Chat Now
Whether you are part of Neurodiversity Navigators cohort program or not, Peer Mentors are here to help! You can come every week at the same time, or, stop by when you need to.
On-campus at the Neurodiversity Center (B131) and the Disability Resource Center (U001) and Online via Microsoft Teams. See schedule above.
Get support with:
Staying on track in class
Communicating with instructors
Organizing and understanding assignments
Study preparation, tips, tools, and more
Accessing campus resources, such as Advising, Counseling, Disability Services, Registration, Tutoring, and more
Using the Weekly Agendas
Other support that you need!
Ask a Question
Ask a Peer Mentor: Staff and peer mentors are available online to answer any quick questions you have. You can ask things like:
"How do I find a tutor for Math?"
"I can't find my instructor's office hours!"
"When is the deadline to drop a class without a 'W' on my transcript?"
"What's my instructor's email address?"
"I don't know how to find what textbooks I need for my class."
"Can you help me make an appointment to talk with someone?"
And more! Click below to chat M-F from 8 AM – 5 PM
Physical Spaces on Campus
Neurodiversity Center; B131: Main lounge area, plenty of comfortable seating, collaborative area, and individual study areas, Back Area Study Carrels, laptops available to use in the building, peer mentors usually available for support.
Library Media Center; D Building: Individual computers, copying & printing, group study rooms, quiet space upstairs. Check for current hours.
Computer Lab; D Building, D101: Individual computers, check for current hours
Computer Labs; N Building: Individual computers, printing (students start each quarter with $15 credit towards printing), labs for DMA students, DRC Solo Lab (must be reserved through DRC). Check for current hours.
L Building Student Lounge: No computers, but some quiet spaces can be found both downstairs and upstairs. Check it out!
T Building: 2nd and 3rd floors. Lots of quiet space, tables, benches, brand-new! Bonus – coffee shop on first floor!
S Building: Much like the T Building, the S Building also is a newer building that has lots of quiet nooks to study on the 2nd and 3rd floors.
R Building: Explore this building – there are nooks and crannies everywhere! And, a coffee shop on the first floor! Quiet!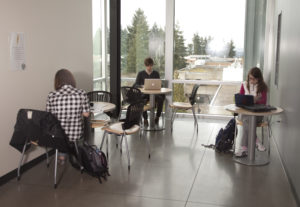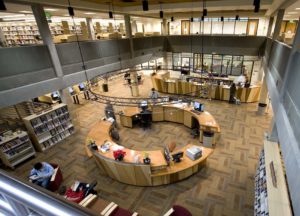 Last Updated September 13, 2023