Winter courses open for registration
A variety of compelling and fascinating courses for retirees, semi-retirees, and active seniors. The TELOS program, operating since 1976, is designed to focus on learning, growth, and fun — not performance. Our non-graded, non-credit classes are now offered online and are open to all ages.
Our featured instructor this winter is Dale Lehman. Dale has a long history with geology, and this is a special interest he brings to the TELOS community. Geology of National Parks is a new course he'll be teaching, starting January 3, 2023. Learn more.
For a pdf of our winter schedule, click on the image below: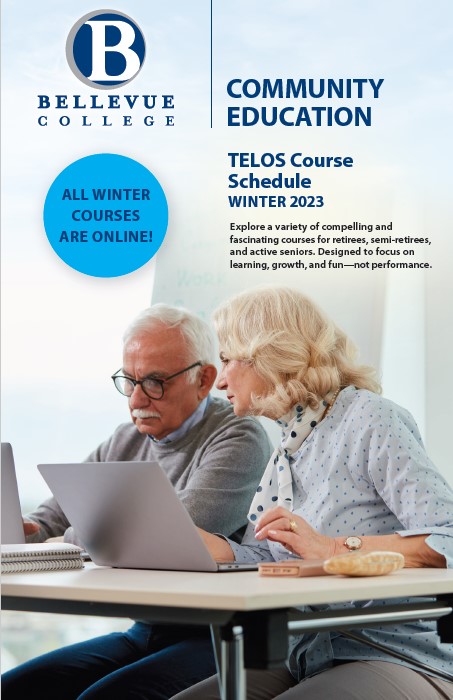 Categories:
With as many as 50 courses offered each quarter and over 1,000 students participating in TELOS, this program is bound to offer a course and community that is right for you!
If you would like to search for classes by the day of the week, please go to our online schedule.
Teaching for TELOS
TELOS is continually looking for experienced, enthusiastic instructors on a wide range of subjects. TELOS classes are held one day each week for eight weeks for a total of 12 hours/quarter. There are no textbooks, tests, papers, projects, or grades. TELOS students are enthusiastic and engaged learners. Compensation is based on Bellevue College Continuing Education's rates for part-time/temporary instructors.
Please email ce-programs@bellevuecollege.edu if you are interested in teaching a class.
TELOS Student Organization (TSO)
TELOS is an active group with its own student organization called TSO (TELOS Student Organization). The TSO organizes activities and lectures of interest to our students.
Learn more at tso-telos.org.
Last Updated November 17, 2022