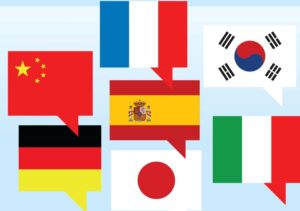 Instructor-led online courses for fall are open for registration.
The World Languages program offers the most comprehensive, non-credit selection of language classes in Washington State. Whether your goals include travel, hobby learning or enhancing your career, you will find our courses to be affordable and accommodating.
Taught by our engaging and professional World Languages instructors in a virtual environment, students will be provided with a great venue to connect, meet new people and have fun. Course content may vary depending on the instructor and students, allowing for a stress free and flexible approach to learning new language skills.
Program Areas:
Translation and Interpretation
For more information, please email: ce-programs@bellevuecollege.edu