For an Associate of Arts and Sciences degree, BC requires 10 credits of Basic Skills writing.
ENGL& 101 provides the first five credits of this requirement.
For the second five credits, choose one of the following: ENGLISH 201, ENGL& 235 (previously ENGLISH 270), ENGLISH 271 or 272.
In general, ENGLISH 201, 271, and 272 are most suitable for people who plan to pursue a four-year degree in a traditional academic field. ENGL& 235 is suitable for those who plan to enter a medical or technical profession.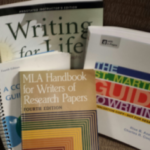 All Courses shown below are also offered as online classes, with the exception of the ENGL 072 and ENGL 299 classes.
For more information about online courses, go to BC's eLearning web site.
ENGL 072 Introductory College Reading and Writing I (11-12)
Learn more about the Introductory Reading and Writing course.
ENGL 091 Basic Grammar and Sentence Patterns (5)
ENGL 092 Introductory College Reading and Writing II (5)
ENGL 093 ELL Introductory College Reading and Writing II (5)
ENGL& 101 English Composition I (5)
ENGL 201 The Research Paper (5)
ENGL 105  Grammar and Communication (5)
ENGL& 235 Technical Writing (5)
ENGL 271  Expository Writing (5)
ENGL 272 Expository Writing (5)
ENGL 299 Directed Reading and Research (V1-5)
Last Updated May 25, 2022