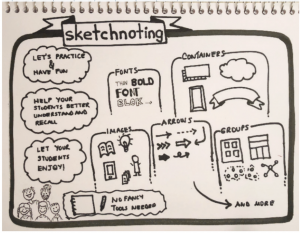 Sketchnotes are rich visual notes created from a mix of handwriting, drawings, shapes, and visual elements like arrows, boxes, and lines. Sketchnoting combines traditional handwritten notes with drawings, symbols, and other creative elements.
With sketchnotes, you can provide students with an engaging map of ideas with clear visual cues. Visual cues will foster long-term recall, conceptual understanding and developing ideas more comprehensively by creating connections between points.
Participants will use sketchnotes to express three concepts that they are teaching in the classroom.
Participants will be able to read and interpret a sketchnote created by other participants.
Location: D104H| 4 PD Hours – 8 seats | $50 stipend*
Last Updated July 26, 2018