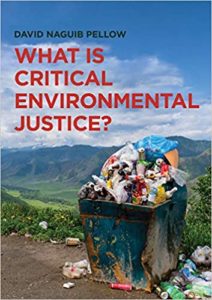 Have you ever wondered how the Black Lives Matter movement relates to environmental issues? Or, what prisons and jails have to do with environmental justice? Are you interested in learning more about environmental justice scholarship and activism? If the answer to any of these questions is "yes," this book discussion group is for you! Climate justice falls under the larger umbrella of environmental justice. In his 2018 book, What is Critical Environmental Justice? David Naguib Pellow reveals how ecological violence is first and foremost a form of social violence, and how the harm to ecosystems mirrors the experiences of marginalized groups across the planet. Join us as facilitators David Spataro (Political Science) and Sonya Doucette (Environmental Chemistry) guide our journey.
Zoom Meetings: 11:30 a.m.– 12:30 p.m. on Fridays: 9/25, 10/9, 10/23, 11/6, 11/20, 12/4
10 PD hours | 15 seats
Register to join this book discussion!
Book provided to participants at no cost (Thanks to Kristen Jones for supporting the Climate Justice in the Curriculum initiative at Bellevue College.)
Last Updated November 24, 2020