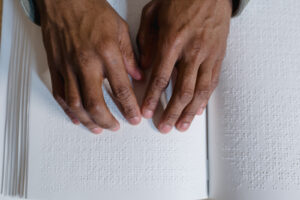 The workshop was outstanding: useful, to the point, super organized and coordinated between the two facilitators. Thank you for bringing about this opportunity to learn and collaborate. – Myriam Feldman
When you get a Letter of Accommodation that is four pages long, do you take it on confidently, or do you wonder how you will handle it, especially now with everything else going on? Whether you are new or seasoned faculty, sometimes accommodations can surprise us, and we're not sure what to do. Join the "Accommodations Unwrapped" faculty group as we discuss common and not-so-common accommodations. We'll learn definitions, what we're supposed to do and when, and, best of all, how to maximize our efforts to minimize our time spent, all while delivering excellent, accessible education to all our students!
Co-facilitators, Marisa Hackett, Director of the Disability Resource Center, and Sara Sanders Gardner, Director of the Neurodiversity Navigators Program, bring a rich history of creating and implementing accommodations in a variety of settings. Don't miss this opportunity to learn from two of the very best.
6 Thursdays, January 13 – February 24, 10:30-11:30 a.m.
No Meeting on February 10 (College Issues Day).
12 PD hours | $200 stipend
10 seats: Register Here for Accommodations Unwrapped
For more information, contact Sara Gardner, Neurodiversity Navigators Program, or Marisa Hackett, DRC.
Last Updated March 6, 2023