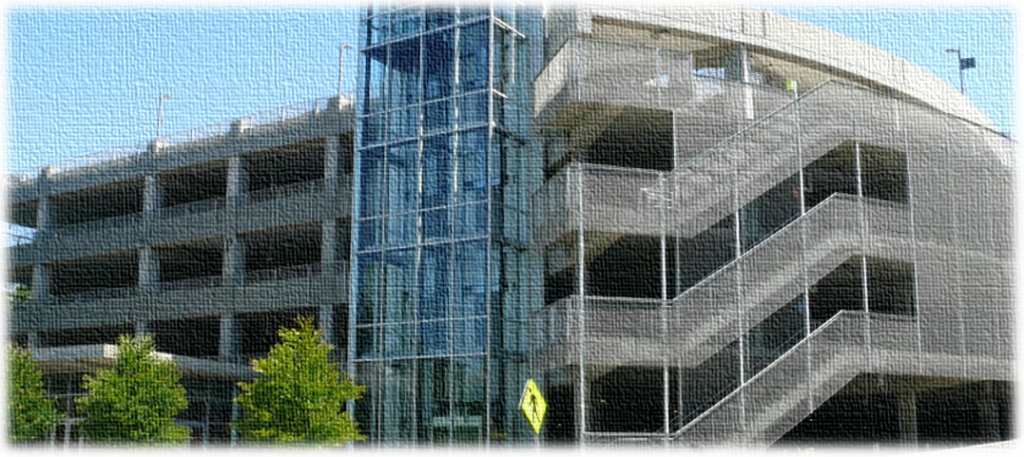 Greetings Colleagues:
Parking permits for the 2020-2021 school year expire June 30, 2021. Employees may obtain their 2021-2022 school year parking permit online beginning June 28, 2021:
Employees not teaching/working on campus during the Summer 2021 quarter may postpone their permit purchase until the beginning of Fall quarter (sale starts September 15, 2021).
Valid until June 30, 2022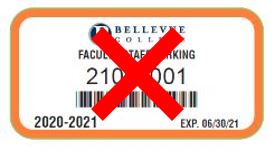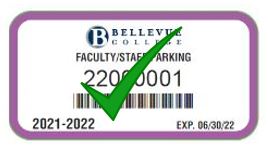 Required in employee/visitor lots starting July 1st, 2021, and are available for purchase now. (Place on the inside of your windshield on the driver's side)
General Information:
A valid Bellevue College parking permit or disability placard is required Monday through Friday from 6am to 3pm in employee parking lots on Main Campus. (NOTE: a valid Washington State disability placard or license plate is sufficient for use in any lot on campus and an additional Bellevue College permit is not required by Washington State law).
Employee parking permits are also VALID on visitor/metered parking lots 12 and 16, on the top floor of the parking garage (P-5), and in general/discount parking lots 1, 3, and 5
Employee parking permits are NOT VALID on student parking lots (including the 1st-4th floors of the parking garage)
Please refer to the parking map for lot locations
2020-21 parking permits should be purchased online and may only be paid via payroll deduction. Employees requiring a special accommodation should visit Public Safety (B132). Permits are NOT available at Payroll or the Cashier.
To order an employee permit have the following information:
Your employee ID number
Your mailing address
Your email address
The license plate, make, model, color and registered owner's name for all vehicles to be registered with the permit.
To add or change vehicle information after completing a transaction, contact Public Safety at parking@belleveucollege.edu
Permits may only be returned between quarters. To do so, bring the permit to Public Safety in B132 before the first day of the quarter to ensure you won't be charged a permit fee for the upcoming quarter.
Lots and Transferability:
Permits are static cling and transferable between registered vehicles. Only one permit can be ordered per employee. The employee who ordered the permit is responsible for the vehicle in which the permit is displayed. Employee permits are required in all employee lots (6, 9, 13, 19, all B, C, and D lots) Monday through Friday from 6:00am to 3:00pm (refer to the parking map).
Fees:
Parking permits are issued for the fiscal year (July 1, 2021 to June 30, 2022), and are paid via payroll deduction. The cost of a parking permit depends on employee type.
Union employees: refer to your respective CBA's for information on cost and/or stipends.
Exempt employees (not including faculty): cost of an employee parking permit is $65 per quarter. Exempt employees eligible for benefits also receive a $50 stipend each quarter to offset the cost of commuting.
Faculty permits are $30 per quarter. Stipends are not available for faculty permits.
Part-time hourly employees: cost of an employee parking permit is $65 per quarter. Part-time hourly employees who purchase a parking permit prior to end of the 2nd pay period each quarter also receive a $50 stipend each quarter to offset the cost of commuting.
Student employees: not eligible for an employee parking permit. Exception: students working during the Summer quarter who are not taking classes may apply for a temporary employee permit on the website.
Daily Parking Permits:
Metered daily parking is also available for $2 per day at pay stations in lots 12 and 16, the top floor of the garage, and in the B132 lobby. Metered daily parking receipts are valid only in Student and Daily Metered lots. To use a daily parking permit in an Employee lot, purchase a $2.00 daily parking permit and take it to Public Safety in the B132 lobby to receive an employee stam
Alternative Transportation:
Before purchasing a permit, consider alternative modes of transportation! Save time and money by leaving your car at home. Consider an ORCA bus pass (renews automatically with payroll contributions starting July 1st), carpooling, or even ride a bicycle to work. See below for more information on alternative transportation options.
Don't want to pay for parking? Try:
ORCA Card: Eligible employees may purchase a bus pass (great value!)
Carpool parking: Split the cost of a parking pass with two others and get premium parking on the 1st floor of the parking garage. To obtain a carpool permit, visit Public Safety in B132.
Bicycling: Check out area bike maps to find your route, locate parking and showers when you arrive, and track down the repair station north of the bus shelter.
Need help with your commute?
Contact Transportation Assistance to learn more about your commuting options and figure out the best way for you to get to campus!
In order to purchase a student or employee parking pass, you should have your vehicle and payment information available, as well as your student or employee identification number. Be sure to include your correct and up to date email and mailing address.
Your payment confirmation and Temporary permit will be mailed to the email address provided.
If you are unable to access a printer, please come to Public Safety in B132 and we would be happy to print it out for you.
To pay your citation online please have your license plate and citation number available. If you no longer have your original citation, please call Public Safety and the citation number can be provided to you.
All visitors may purchase Daily or Weekly parking passes from parking stations located in Daily Metered parking lots 12, 16 and the 5th floor of the parking garage. These stations are open to visitors 6:00am- 3:00pm, excluding breaks and holidays. Daily passes may be used in any Student or General parking area.
Vehicles with properly displayed daily or weekly metered passes may park in any Student or General parking lot.
Vehicles with properly displayed Employee permits, Student Quarterly Everyday and Metered Daily Permits may park in visitor and general parking lots (**Discount permits are not valid in Visitor lots**).
A Visitor/Daily parking pass is $2.00 per day or $10.00 per week.
Bellevue College issues citations to ensure an open, safe and accessible learning and working environment. The fine schedule is determined in accordance with regional standards and to assure compliance.
Wondering where you can park? Refer to the Main Campus Parking Map.
---
Permit Parking
Parking permits are required in all parking lots 6:00 am- 3:00 pm except weekends and holidays.
Student Parking Fees:
| Quarterly Student Permit Types | Price per Quarter |
| --- | --- |
| Quarterly Everyday Permit | $65 |
| Quarterly Everyday Discount Lot Permit | $40 |
| Quarterly 2-Day (M/W or T/TH) Permit | $35 |
| Quarterly Motorcycle Permit | $35 |
Employee Parking Fees
| Employee Permit Type | Price per quarter |
| --- | --- |
| WPEA Classified Employee Permit | $15 |
| Exempt (Non-Faculty) and WFSE Classified Employee Permit | $65* |
| Faculty Employee Parking Permit | $30 |
*Non-faculty Exempt and WFSE Classified Employees receive a $50 parking stipend applied during the second pay period of the quarter.

While employee permits are to be purchased annually; a permit may be returned to the Parking Office before the second pay period during quarters not in use to be held by the Parking Manager until the employee returns to campus. The Parking Manager will contact Payroll to prevent the employee from being charged for that quarter. Please contact the Parking Manager for details (425-564-2516).
Valid Parking Permits:
Students: If your permit does not match one of the images below it is invalid.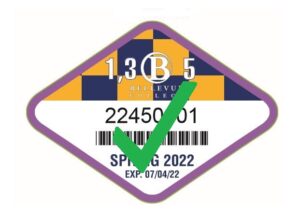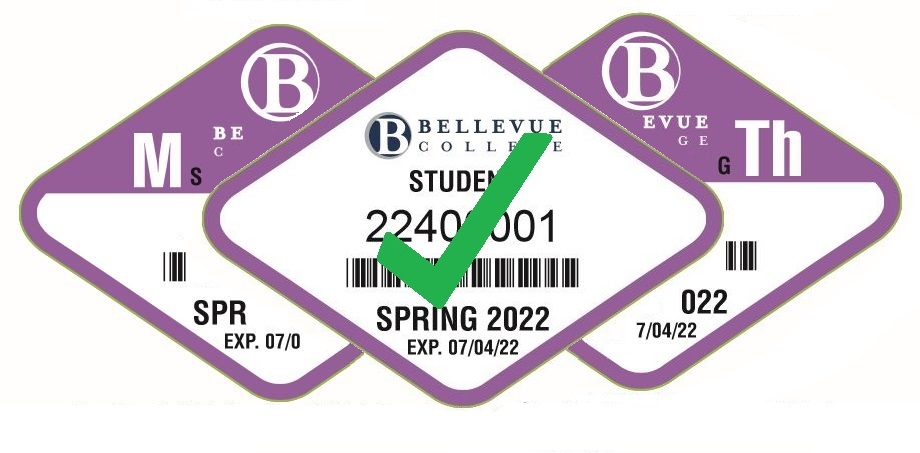 Employees: If your permit does not match the image below it is invalid
Employee parking permit (valid during 2021-22 fiscal year: July 1st, 2021 – June 30th, 2022)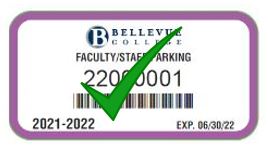 ---
You MUST physically return your actual sticker permit to the Public Safety Office (B132) BEFORE your refund can be issued.
---
Visitors & Daily Parking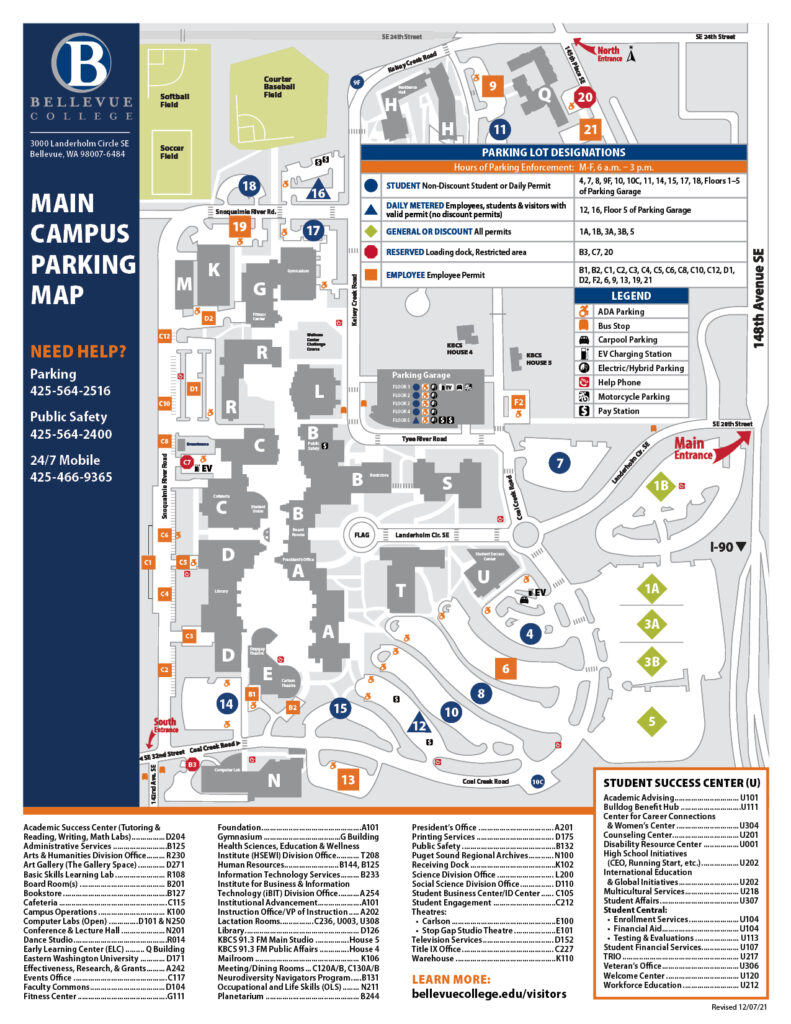 Try sharing your ride, taking the bus, or biking to campus!
If you usually drive your car or are looking for alternatives, you can consider taking the bus, biking, or carpooling a few days a week or all the time. It's easy to do, and BC offers great programs and discounts!
Visitor Parking Passes Available in Lots 12 & 16
Please remember that all visitors must purchase a parking pass from one of the parking stations and place it upright on the dashboard of their car. Visitor Passes may be used in any Student or General Parking Lot, except in reserved spaces otherwise marked.
Parking Meters CANNOT Make Change!
Please use a card or exact change. Notes are not considered a valid replacement for a parking pass and you will be ticketed. If you experience any problems with any parking station call the Public Safety Parking Office: 425-564-2516
Last Updated March 25, 2022