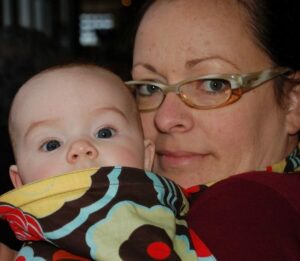 Biography:
Hi, my name is Denise Johnson. Let me tell you a little bit about myself. I was born and raised in hot and sunny South Florida. The youngest of three daughters, I pretty much had a childhood that involved going to school, taking dance classes, playing lots of soccer, tagging along with my sisters, and getting into trouble with my parents from time to time. I lived in a mostly white, mostly middle-class suburb of the Fort Lauderdale area and pretty much thought that I was content living there. But when I was fifteen, I began working as a professional dancer, and through these experiences, my eyes were opened to a world beyond the 'burbs. I met people and perspectives that were very culturally different from my hometown, and I traveled to exciting places. I made new friends who lived exciting lives. I absolutely loved these experiences, and as a result, I became discontent living in the suburbs.  I felt a bit suffocated there, in its homogenous, conformist culture, and I dreamed of living in more interesting places. However, I felt tremendous social pressure to continue following the social norms of my hometown – to go to college, get a "real" job (dancing doesn't count, don't you know?!), and live in the 'burbs like everyone else I knew. So, straight out of high school, I packed my bags and went to the University of Florida. I don't think I truly did it for myself. I think I did it because I thought it was what others expected of me.  My heart was elsewhere.
During my first semester at college, I knew it just didn't feel right. I felt like a social security number in a sea of faceless, personality-less students. My professors didn't seem to take much interest in teaching (they acted like they'd rather be somewhere else), and the size of the college (over 40,000 students at the time) was overwhelming. After all, it's hard to feel like an individual sitting in a class with five hundred other students! I began to realize that maybe college wasn't for me. Unmotivated and a bit depressed, I began to party and to do other things that seemed more interesting to me. I skipped classes.  A lot.  I remember one time I showed up to class after I had missed a couple of weeks and – surprise! – the Professor was giving a test I didn't know about. Ouch. That was an unpleasant experience, to say the least. Not surprisingly, I didn't last long at UF. After just one year, I left and returned to South Florida, even more doubtful about what I would do with my professional life.
So I kind of hung around in limbo for several years, playing volleyball on the beach and working off and on as a dancer. I tried "temping" for a while, and I worked various office jobs, from file clerk to receptionist to paralegal. I quickly discovered how poorly the office workers (mostly women) are treated in these fields, and I had distressing experiences that I wouldn't wish on anyone. And after a serious knee injury brought an end to my professional dancing, I realized that I needed a college degree to get better pay, more respect and independence, and more control over my own life.  I returned to college, but this time I did it because it was what I wanted to.  I was motivated, responsible, and determined this time.  Nothing would stop me.
I enrolled in a nearby a community college. What a difference this choice made! My professors at Broward Community College were thoughtful and energetic, and they actually seemed to care about students. (Imagine that!) I took my first Sociology class, and I was pretty much hooked. Sociological ideas fascinated me. So I took another Sociology course, and another one, and another one. For the first time in my life, I actually WANTED to go to class. And within a year or two, I knew that I wanted to be a sociologist. It felt great to finally figure out what I wanted to do with my life. I found my calling.
After finishing my A.A. degree, I transferred back to the University of Florida, the same college I had left, uninspired, once before. But with more maturity and determination under my belt, and with smaller class sizes to boot, my experiences there were amazing this time around. At Broward Community College, I had figured out how to be a student and a learner. And at the University of Florida, I figured out how to be a scholar. I made a point to get to know my professors personally, I studied very hard, and I was incredibly invested in what I learned. I just couldn't get enough of the college life. A couple of professors took me under their wings, mentoring me and training me to be a sociologist. They suggested that I go to graduate school, and I did. I moved to the Pacific Northwest to attend the University of Washington, and the rest is history. Like tons of other people, I fell in love with Seattle and decided to set my roots here. I also fell in love with the weather and with the comforting, yet spectacular, beaches. I have truly been transformed into a Pacific Northwesterner!
As an educator, I've spent a lot of time reflecting on my own experiences in college, so I remember well what worked for me and what didn't. I remember what it felt like to approach professors who were arrogant and aloof, and I remember feeling intimidated and discouraged. I hated that feeling. What a difference it made to have professors who were approachable! This is exactly the kind of culture we're trying to model in our Sociology Program here at Bellevue College – we want Instructors to put students and student learning first. That's what I try to do, every day. I try to make my courses as interesting and engaging as possible, since I definitely know what it feels like to be uninspired. I try to light a fire in students, much like a fire was lit within me many years ago. I love this discipline, and if I do my job well, hopefully my students will too.
Besides my love of teaching and of sociology, I have a few other loves as well. I'm a diehard college football fan (Go Gators!), a jigsaw puzzle addict, an avid reader, a so-so gardener, and a movie buff. I'm a pretty good cook too, although I despise cleaning the kitchen afterwards.  I still love dance, but I'm a consumer of dance nowadays.  Some of these loves have taken a backseat in my life lately, as my soul mate and I have a young daughter running around the house and keeping us busy!  Now, my biggest passion in life is introducing our daughter to the world around her and teaching her to be a curious, empathetic, confident, and independent human being who cares deeply about justice and fairness.
COURSES DENISE TEACHES AT BC
Introduction to Sociology; Social Lives of Children & Youth; Social Problems; Gender in the Social World; Dating, Relationships & Families; Sex & Sexualities; Sociology of the Body; Race & Ethnicity; Intersections of Identity and Inequality; You Are What You Eat: Food in Society; Deviance in Society; Interdisciplinary Studies (IDS): Skin Deep and Idiocracy