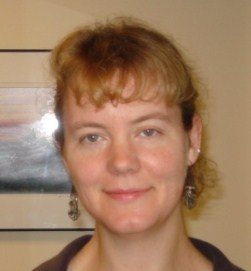 Biography:
My name is Sue Cox, and I am a native to the Bellevue area. I was born in Seattle, because that is where the relevant hospital was, but then my parents brought me home to Bellevue to the house where I lived my entire childhood and where my mom still resides today. I spent four years away at college for my undergraduate work, but then came back and have lived here (the eastside) ever since.
I first took sociology in high school.  I can tell you virtually nothing about that experience except that I was so bored that I wrote my notes backwards.  You could read them by holding them up to a mirror.  Believe it or not, I actually took another sociology class in college.  (Why not?  I didn't learn anything the first time around.)  This time the "light bulb went on," and I have had a passion for sociology ever since.  I double majored in sociology and computer science, but my computer science degree has been sadly neglected.  Sociology is much more fun!
Before coming to teach at BC, I did social work in adoptions, foster care and juvenile corrections.  While finishing up my Master's Degree I worked the graveyard shift at Echo Glen (a prison for kids). After that I worked a few temporary positions and as an intermittent (any and all shifts) filling in for people who were sick or on vacation. I also went back and worked there part time for a while after getting my job at BC. My first job after getting my degree was as an adoption counselor. I worked some with birth mothers and with families wanting to adopt an infant, but my focus was on special needs adoptions. A short description of children who fit this category is: children over two years of age, sibling sets, and children with medical needs. After that, I worked at a group home for boys as the Foster Care Coordinator. Eventually I ended up at BC, and I have been here for over 20 years.
I didn't start teaching right away after getting my degree partly because I didn't think I wanted to. Who wants a job with homework? Once while job searching I submitted a resume to BC and a year later got a call asking if I wanted to teach. I didn't know if I wanted to or not, but thought I would at least try it. So I tried it and found that I like it. I really like it. That is why I have been here ever since.
When I am not teaching or doing the homework produced by teaching, I enjoy hanging out with my family (one husband, two kids). We like both mellow activities such as watching movies and playing games and more active pastimes such as camping, taking the dog on long walks and heading into Seattle for entertainment there. Any time I have left I fill in with baking and reading (mostly reading).
COURSES SUE TEACHES AT BC
Introduction to Sociology; Social Problems; Dating, Relationships & Families; Deviance in Society; Religion and Our Social World; Interdisciplinary Studies (IDS): The Good Life