Home of the Bellevue College baseball team, Courter Field is one of the Pacific Northwest's top baseball facilities. During the spring of 1994, the field was named in honor of Al Courter, owner of Honda Auto Center of Bellevue.
Courter has been a significant donor for a variety of projects and programs at Bellevue College such as the North West Center for Emerging Technologies (NWCET), and the Early Childhood Center. Raised bench-backed seating is available on both sides for fans. In addition, two full-size artificial turf batting cages sit along left field in addition to a covered bullpen on the third base side. The field also features a unique dirt only infield tarp by Covermaster; this allows growth and proper health of the infield turf during prolonged periods of tarping. This has been an integral part of Bellevue's capability of eliminating rainout games. The first wireless inning-by-inning scoreboard in western Washington was installed at Bellevue. The $30,000 scoreboard, funded by former President Jean Floten, the Puget Sound Senior Baseball League, Taylor Baseball Club, and U.S. Bank, was illuminated for the first time in fall of 2001. The facility also includes an umpires' dressing room and scorer's booth. A new drainage and irrigation system was installed in 2008 by Green Shield Systems. New lighting, up to code with NCAA standards, was erected in 2015 by Musco Sports Lighting. The lighting was a small part of the large outdoor athletic facility project spearheaded by former Bellevue President Dave Rule and Vice President Ray White.
Because of the large size, condition of the playing surface, and full enclosure, Courter Field has been a hotbed for major tournaments and baseball events such as the prestigious Area Code Games tryouts, and Baseball Northwest Prospect Evaluation Camps. The Brandy Pugh Memorial Tourney, the most prestigious and longest-running youth invitational in the region, is held at Courter Field in July in addition to the Baden Northwest Baseball Invitational, Seattle Premier League Invite, Josh Dickerson Memorial Tourney, Art Wright Memorial Day Tourney, and the Seattle Elite League 4th of July Tourney. The field has also played host to the Connie Mack Pacific Regionals, American Legion District Tourney, Mickey Mantle State Championships, National Prep Championships and Century 21's Fantasy Camp All-Star Game in August 2001. The event, which was coordinated in conjunction with the Major League Baseball All-Star Week, featured Major League Hall of Famers Harmon Killebrew and the late Tug McGraw.
A public address stereo system was designed for Courter Field by Morgan Sound, outfitters for Everett Memorial Stadium's (home of the Everett Aqua Sox) sound system. The actual playing surface is considered by many as one of the truest fields around. The dimensions of the diamond are: 330′ down the lines, 365′ in the alleys, and 385′ to center.
Semi-annual maintenance procedures include aeration, rolling, and overseeding with perennial ryegrass two times a year. Courter Field's infield mix is comprised of Turface MVP.
The field is not only the home for Bellevue College, but for the Puget Sound Senior Baseball League and several U-18 youth programs such as the Seattle Premier League.
Experience Courter Baseball Field:
This video gives the viewer a true perspective of what playing baseball at Bellevue College is all about: real baseball. Nothing is finer than the look of fresh-cut green grass, a flat natural surface, and crisp lines. Players, coaches, and fans comment how the beauty of Courter Field and atmosphere with views of the Bellevue and Seattle skylines are second-to-none. Here at Bellevue, the Bulldogs play real baseball; on a 100% natural surface, like most big league ballparks, 9-inning games, using wood bats. Bellevue College Baseball is played in it's purest form like the major leaguers…the way the game was meant to be played. video courtesy of Corbin Powers.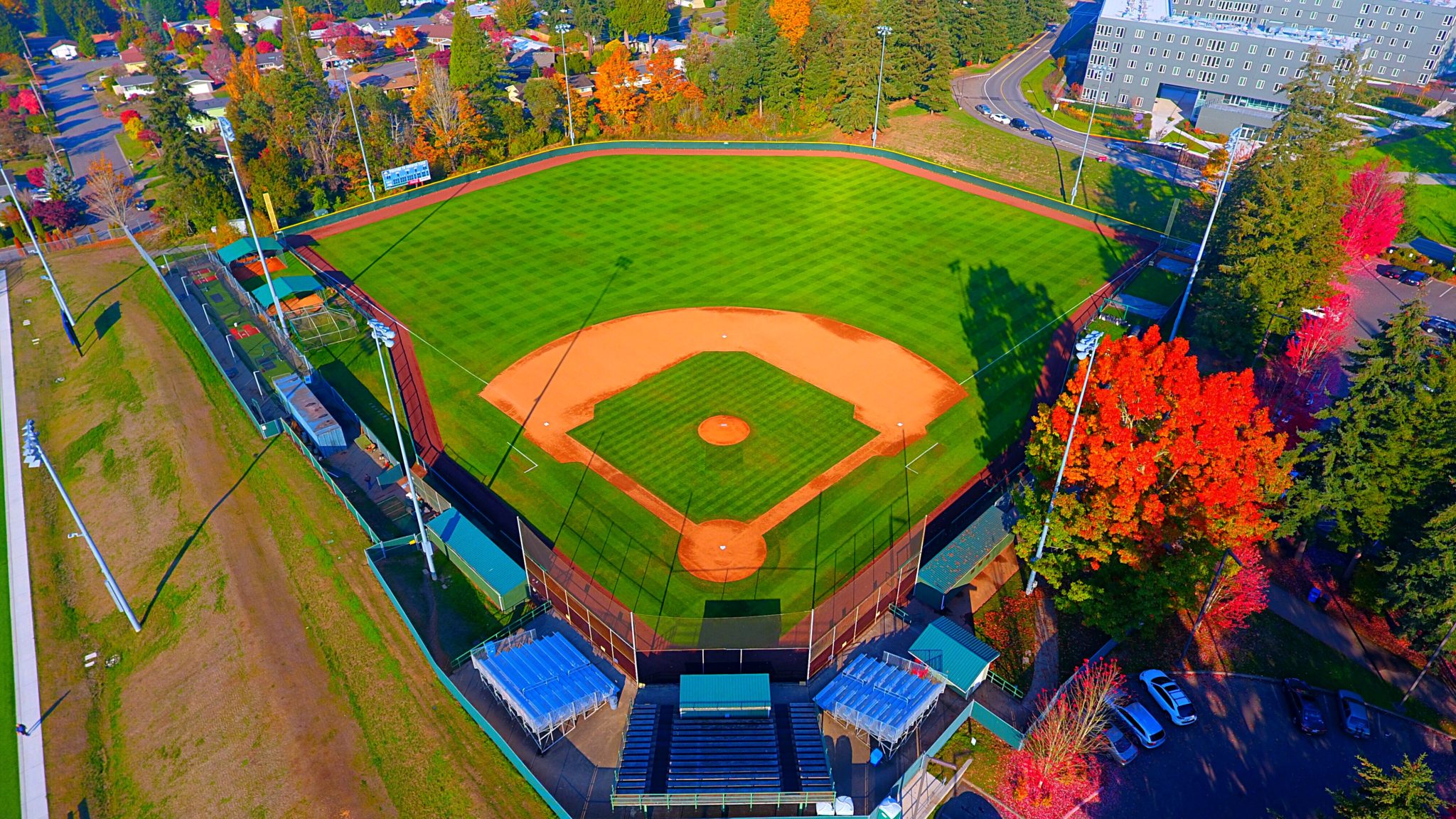 Last Updated July 21, 2022