Featured News in Volleyball: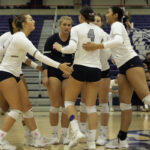 Bellevue College volleyball competed head on for the first two sets against North Idaho, but fell in four sets, 25-22, 23-25, 14-25, 14-25 in the opening round of the NWAC Elite Eight Championships at Pierce College. In what many labeled as the marquis match of ...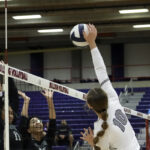 Host Bellevue College volleyball, seeded number on on their home floor, came back after falling in their opening match to win two matches in a row to clinch a berth to the NWAC Elite Eight Volleyball Championships. The Bulldogs were stunned in their opener, falling ...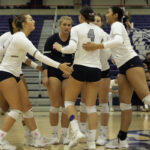 Bellevue College volleyball sent off their four sophomores with an easy win by topping visiting Whatcom in three, 25-22, 25-17, 25-9. The Bulldogs swung at a .270 clip for the night committing only 12 errors. Bellevue was in control the entire way and were led ...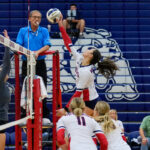 Bellevue College women's volleyball clinched the North Region title by defeating visiting Everett in four, 25-19, 25-13, 24-26, 25-19. This is Bellevue's fourth consecutive region title. After two easy sets, Everett's offense found holes in Bellevue's defensive coverage with a mix of soft tips and ...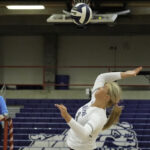 Bellevue College volleyball won a thrilling five-set match on the road at Skagit Valley, 25-20, 22-25, 23-25, 28-26, 15-8. After taking set one, Skagit Valley began swinging with hot hands hitting at .286 and .366 clips in sets two and three respectively as Skagit Valley ...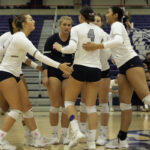 Jessi Mahler racked up 12 kills on only one error leading Bellevue College volleyball to a 3-0 (25-13, 25-14, 25-18) sweep over visiting Olympic at Courter Family Athletic Pavilion. The 'dogs smashed to a season-high .620 hitting percentage tonight as Olympic's front row could not ...
More ..
Last Updated October 27, 2022