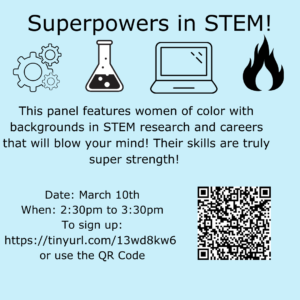 Join us on March 10th from 2:30 pm to 3:30 pm to hear the journey towards becoming a STEM professional from different women of color. 
These women are truly amazing in the work they have done and the areas they have studied.
Learn about fire engineering, computer security, and more! You will also learn how librarians support those in STEM when they are in school and out doing amazing things in their careers!
Dr. 
Lindi
Rubadiri-Mujugira, Director of the STARS program, UW College of Engineering and Instructor, BC STEM to Stern
Dr. Rocío Aldeco-Pérez, Research Associate Professor at Universidad Nacional Autónoma de México, Computer Engineering
Chris Cindy Cordova, MBA. Sr. Product Manager at Amazon Web Services
---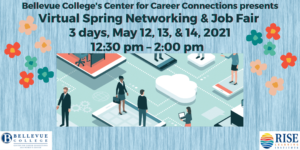 Virtual Networking & Job Fair 2021 
About this Event
Employers from private, public and non-profit sectors will be sharing their available jobs for 2021. The Zoom link will be emailed to those who register to attend the fair.
This event is free and open to all students, alumni, and the community.
Day 1: Business, Accounting, Marketing, Design and Service Industry
Date: Wednesday, May 12, 2021
Time: 12:30pm – 2:00pm
Day 2: Healthcare, Non-profits, Education, Government and Communications
Date: Thursday, May 13, 2021
Time: 12:30pm – 2:00pm
Day 3: Science, Technology, Engineering, Math, STEM
Date: Friday, May 14, 2021
Time: 12:30pm – 2:00pm
Get 

Ready for the Career Fair with 

Career Development

Workshops

Including Resume Development, LinkedIn, Preparing for a Virtual Networking and Job Fair, Interviewing Skills, Salary Negotiations, Career Exploration I-II

 

The Center for Career Connections also offers a fantastic array of credit classes. Learn more about our classes

Last Updated March 4, 2021