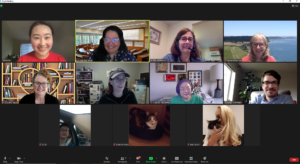 As we're anticipating a re-opening of the campus in the coming year, we need to start considering how to bring what we've learned about effective teaching in a virtual class to our face-to-face courses. Promoting inclusivity and diversity in the classroom is the instructor's privilege and responsibility. How can we do this in a hybrid or blended class model? Join Weina Sun and Archana Alwar to explore how you can apply equity and access practices to hybrid teaching and cultivate a sense of belonging for our students.
This workshop will include examples, group discussions, scenarios, role-playing, and opportunities to grow. By the end of the workshop participants will be able to:
Recognize the scope of inclusivity and diversity in hybrid instruction
Raise awareness of assumptions and biases in the learning environment
Provide a balance between in-class and online methods of course delivery to support students learning
Identify areas of improvement for equity, diversity, and inclusion and diversify the curriculum
Plan to implement new pedagogical approaches or other changes to your course
Poly-synchronous: October 7 – November 9 on Canvas with two synchronous meetings,
Tuesdays, October 12 and November 9, 2:30 – 4:00 p.m.
15 PD Hours | $250 stipend for faculty who complete the workshop deliverables.
12 seats; Register for Preparing for an Inclusive Hybrid Course
For more information, contact Archana Alwar, Adjunct Mentoring Lead, or Weina Sun, A&H.
Last Updated October 30, 2021