Please join us in welcoming Justin Sanders to OLS Bellevue College as the Instruction and Student Success Program Manager.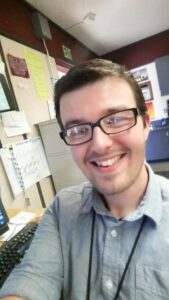 Prior to joining OLS, Justin worked for seven years as a special education teacher for preschool through high school aged students in Washington, California and Texas. After earning his Master's in Adult Education from Eastern Washington University, he decided to apply the knowledge he gained in a new role. "Working with neurodivergent students became a passion of mine," he says. "Making instruction universally accessible to all students is one of the many things that drives me in my career. I saw the job posting for OLS and thought, 'Perfect!'"
Justin looks forward to forming partnerships with students and helping them develop self-awareness, self-determination and meet their goals. "I envision my role as a facilitator. Rather than telling students what they need to do, I want to help them understand how they learn best and what we can do to use their strengths to succeed in OLS."
In addition to his Master's, Justin holds a Bachelor's degree in Spanish from California State University. "Growing up in the San Joaquin Valley of California, I had the privilege of being surrounded by the Spanish language and Mexican culture. Having started learning Spanish when I was young, I discovered that I had an ear for languages and decided to study it as my major. Several years later, I decided to go back to school to study adult education."
In his free time, Justin loves to travel, read, learn new languages, do the occasional Netflix binge, spoil his cat and dog and go on adventures with his husband to explore Seattle. He is also a coffee lover (especially Herkimer!) who appreciates the beautiful nature of the Pacific Northwest.
---
Occupational & Life Skills (OLS) Bellevue College is an associate degree program for adults with learning disabilities. In our uniquely supportive skills-based program, students apply academic knowledge through community activities, service learning and social experiences. Students identify a career pathway, gain marketable, workplace-ready competencies, develop better interpersonal skills and complete an internship in alignment with their career goals.
Learn more at an upcoming Information Session.
Last Updated February 1, 2022