German at BC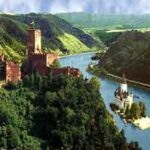 The Bellevue College German Program is committed to offering a solid one-year sequence of German instruction. Speaking, listening, reading, and writing are practiced in depth. Additionally, German culture is woven into all our classes.
Online and in-class videos provide reinforcement of the rich and practical vocabulary as well as some fun. Consistent valuable feedback allows you to better understand and learn to speak, understand, write, and read German.
German is recommended to fulfill a World Language requirement in our state colleges and universities, but also to enhance any other major. Fluency in German is suggested for majors in engineering, international relations, marketing, pre-law, the sciences, and community service. We believe strongly that studying a foreign language and culture gives one a strong foundation for any creative endeavor in the future.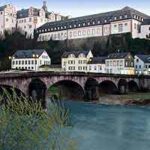 Bellevue College is the only two-year college in the greater Seattle area offering First Year German classes starting with German 121 classes in Fall, continuing with one German 122 in Winter, and finishing the sequence with German 123 in Spring. We offer German 121 and 122 in Winter and German 122 and 123 in Spring. Since we are a small program, we only offer day classes.
We do recommend to students who need three sections to start their German language classes in Fall. However, if you don't need all three classes, starting in Winter is fine.
Did You Know?
Did you know that German is spoken by 90 million native speakers in the world? Most of them live in Germany, Austria, and Switzerland. German is one of the ten most important world languages, and, as a first or second language, the most widely spoken language in Europe.
Did you know that some words can sometimes be confusing when borrowed from other languages? A ''Kindergarten" in the German-speaking world describes a place for young children of ages 3-5. In the US it is called ''preschool''. And what is commonly used as ''Kindergarten'' in the US describing the year before first grade is called "Vorschule'' in the German-speaking world.
Did you know that German Chocolate Cake is not a thing in Germany? Look it up and find out for yourself. And did you know that Germans love their bread like the French like their cheese? How about Gummy Bears? They were invented by a German.
Did you know that the Cologne Cathedral is the largest in Northern Europe? It was started in 1248 and finally finished in 1880, only 632 years later. Can you believe the kind of commitment and sacrifice it took to complete during those days?
Myths
There are many myths about the German language and culture. Some say that German is difficult to learn which could be said about any language since languages take time and dedication to learn and are certainly not translations of one another. They may have the same root though as in ''father'' and ''Vater'', ''water'' and ''Wasser''. Nouns are also capitalized in German which is different from English.
Germans are often stereotyped as being distant and unfriendly. In a country that has 80 million people living in a place roughly the size of the state of Montana, being reserved in public may reflect a desire to stay private in public. Once you have won a German's heart, you will have most likely found a friend forever.
Did you know that the German ''Autobahn'' does have speed limits? In the interest of climate change, Germany has stretched on the well-known ''Autobahn'' that requires drivers to drive no faster than 60 or 65 miles per hour (100 or 120 km/h) to help reduce CO2 emissions.
Placement Questions
Do you know which level of language you should register for? Feel free and reach out to our full-time faculty to discuss what works best for you. Contact Eva Norling: eva.norling@bellevuecollege.edu
In that message, please communicate:
How much German have you had?
How long has it been since you had a German class?
Include a short paragraph about a recent vacation written in German.
Class Descriptions
Last Updated July 11, 2023